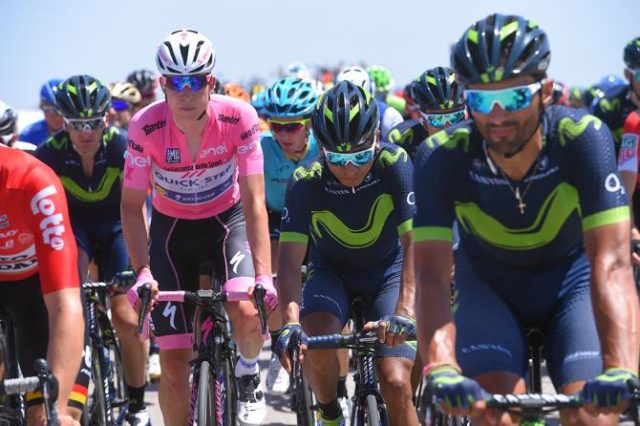 Gorka Izagirre (Movistar) – stage winner
"It wasn't on our day's plan to enter the break, but we saw a chance into that long descent, we also had to keep riders from dangerous teams at reach, and so we decided to give it a try and carry on later on once we made it it. We saw the opportunity to go for the stage and I'm so glad we could finish it off. When Conti crashed just in front of me I was a bit hesitant, because there was still around one kilometer remaining. However, I looked back, saw that there was a split in our group, and I chose to go on full steam until the very end. It was really a long ascent with that action, but I'm just incredibly happy that I got this!
"This victory means a lot to me, it's the biggest I've ever achieved. I've spent so many years chasing a Grand Tour stage success, so many times into breakaways, many close calls, and reaching it in such a Giro stage – this is f-ing amazing. And it's also a huge boost of morale for the team. It really makes us confident for what's to come. Nairo is super strong at the moment and the whole team is delivering so far, everyone has seen it during this week. We've more than fulfilled the goal we had our minds on before starting the race, which was keeping him out of trouble and in contention until the Blockhaus ascent – now it's another completely different Giro, and we could see some interesting things already on Sunday."
Bob Jungels (Quick-Step Floors) – race leader
"We did a pretty good job today. We showed we had some patience in the team because on the climb our best guys to pull were dropped. Then with Conti in front there was a little game but in the end we did really well to wait for our strong horses to come back and then pull the breakaway almost back at the finish."
"We knew it would be a hard start with the tailwind and an easy day yesterday. Everyone expected the breakaway to go to the end today. A lot of guys tried, then with the wind in the beginning it was not so easy. It was quite an entertaining stage to see, and in the end everything went alright for us."
Mikel Landa (Team Sky)
"I'm feeling good and I tried to make a small gap, but the peloton caught me. I decided in the moment to attack. Our main goal today was to not lose any time, but I saw an opportunity and I tried something. Tomorrow we'll see. It should be a good stage for me and I think I need to try and make some time."
Geraint Thomas (Team Sky)
"We knew it was going to be a twisty, up and down, hard day. The way the race played out with Conti up there meant Quick-Step wanted to defend the jersey. So they were chasing hard for that. It was full-on all day really, and certainly for the last 50km.
"It was tense and stressful, having to always concentrate and fight for position. The last few climbs were pretty tough so it was far from an easy day.
"Everyone knew the break had a really good chance of staying away today so everyone wanted to be in it. Hence it took so long to go. A few teams kept chasing and it was always within touching distance. I think a lot of the guys, myself included were just hoping to take it as easy as possible."
Tom Dumoulin (Team Sunweb)
"Today was a super tough stage, it was full speed right from the beginning. The racing was hectic with everybody wanting to be in front and nobody wanting to loose time. The guys did a good job once again today and we are all motivated for a good stage on the mountains tomorrow."
Bauke Mollema (Trek-Segafredo)
"It was a very hard day!", said Mollema. "The speed was really high, more or less all day. Maybe there was 10-20kms where we took it easy halfway through the stage, but the rest of the day was always full gas. The course in the finale was really hard; always up and down, left, right, a lot of short climbs – it was not an easy day! I was in the front with all the GC riders, so it was tough day, but it went pretty well."
"That's Italy, that's the Giro," Mollema answered when asked about the technical and dangerous descents. "Also a lot of bad roads again. It's unbelievable how many bad roads that can be in one country. I don't know any other country with the roads half as bad as Italy," he laughed.
"So far all has gone well; I am where I have to be," he continued. "The GC is still open, there are still 15 GC riders really, really close. I think tomorrow we will see some bigger differences for sure."
Tejay Van Garderen (BMC)
"Usually when a break has the chance to win, those are the ones that are hard to get into and take a lot of time. So today with the tricky final, you knew it was going to be hectic from the start. Plus, a bit of cross wind doesn't help matters. The team did an amazing job shepherding me through the breakaway. We had guys right up until the final with me and then I just had to stick with the GC guys."
"It's a lot calmer when you take it [the finale] from the front and the team did a good job of putting me in a good position. So I was able to just pick my wheels and ride that final climb. The team makes my job a lot easier."
"Mount Etna was a strange situation with the head wind so we have to look at the conditions tomorrow. But with the gradients of Blockhaus and the distance of Blockhaus, it should set it up nicely for a good GC showdown."