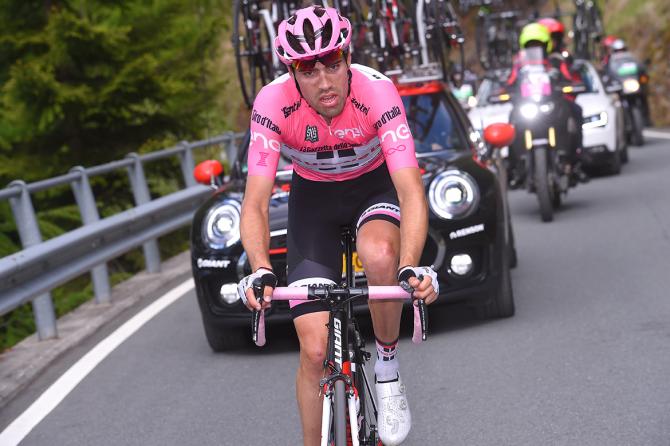 Tom Dumoulin (Team Sunweb) – race leader
"At that moment I needed to stop to answer natures call. When I was chasing back I decided to fight and not give up and then see where we were at after the finish. It was tough out there on my own and of course it's disappointing. The legs were good and I feel like I could have been up there with the other GC group but that's not how it worked out, it's too bad."
Vincenzo Nibali (Bahrain Merida) – stage winner
"It was a spectacular stage. There was climbing, descending, and then sprinting at the end there against Mikel Landa.
I didn't think about being first Italian to win a stage; what counted was having a strong team, making a big effort and staying up there.
I'm closer now but Dumoulin has the advantage of the time trial in Milan."
Mikel Landa (Team Sky)
"Sadly I lost the stage in the final metres. But this is cycling. You can lose or you can learn something," said Landa after the race. "I was feeling good more or less from the beginning of the stage. It was a really fast stage with the breakaway going on the first climb. "I was fighting to arrive (first) and finally they caught me in the last kilometres."
Nairo Quintana (Movistar)
"It was a good day for us, with great teamwork. We knew we could gain some time back at the finish today, and that's what happened. By one reason or another, the leader just lost contact with our group. The pace had been really high all day, and after such a long and hard stage, all contenders were pretty much equal – which means, pretty much dead tired. Of course I'd liked to take five minutes on the leader (smiles), but the reality was different to what we wanted. Many times, will and might are not the same thing. All in all, we're satisfied with our result from today."
Dmitry Konyshev (Sports Director at Katusha-Alpecin)
"This was a good effort today for Zakarin. We were planning to do something, but it was a bit confusing when the leader stopped for an emergency toilet break. Zakarin tried to attack but I stopped him while we tried to get a better understanding from the car what was happening. Instead of attacking he continued to follow the other guys. He found a good rhythm with (Nairo) Quintana and (Domenico) Pozzivivo but it was impossible to gain time on the downhill because we know that is not his best skill. He lost some 30-seconds from Nibali on the stage but for me it is OK as he gained time on some of his other rivals,".
Steven Kruijswijk (LottoNl-Jumbo)
"This was a pretty hard day," said Kruijswijk said. "It was not planned to attack so early, but I wanted to anticipate the big favourites. I felt good at the start of the day and decided to attack. It costs a lot of energy, but at the end, I was in the good breakaway."
"You know it's possible on such a day. It's not the case that the favourites give you 15 minutes of a lead, but you can often get away. I have yet to win a Giro stage in my career and I would like to. On such a day, as today, it is possible. "
"Unfortunately, we did not have enough lead and I was not good enough to follow Landa when he contra attacked", he added. "Certainly after last week, I wanted to try to gain some places. If you do not belong to the best five or six riders, you know that you have to try it differently.
"On a day like today it's hard to tell if you're good or bad. This was a heavy stage and there are more to come. The advantage is that these days are better for me than others."
Bauke Mollema (Trek-Segafredo)
"In the first two climbs I was feeling really, really good," echoed Mollema. "The last climb my legs were not the same anymore; the last climb I was just suffering. When Nibali went, I couldn't follow, and it's a pity to lose time on the first four GC guys, and then to lose one spot on GC. But in the end, the legs were not good enough to follow them."
"At one moment we were pulling with the team to not give the break too much space with some GC guys up there, and I think that was a good tactic," explained Mollema.
"Bauke said he was feeling good today and the race was on since the beginning; everyone seemed to forget how much was still to come," added Stetina. "And then on Stelvio, Julien did a big pull, we were trying to help make a big selection, and then I took over until right before the top when some attacks started flying. Yeah, we just wanted to make sure the race was hard."
Jan Hirt (CCC Sprandi Polkowice)
"I felt really good throughout the entire stage. I jumped over to the breakaway on Mortirolo, when big group of riders decided to give it a go. It was important to be in that leading group, because the chances of breakaway succeeding were pretty big. I hadn't planned that move, but we had to react to the way the race was playing out. It was good to have Felix by my side. He would bring me water bottles and ask if I need anything, so I could safe as much energy for the finale.
On the final climb, when Landa attacked I didn't want to go full gas to follow him, because I didn't know if I don't get cramps after nearly 200km of racing. I think I did my best and at the end of the day I'm not disappointed. It's cycling, this is what happens. Sometimes the break survives, sometimes it doesn't. I think I put on good performance and I'm happy with that.
We will see what next days will bring. There are no stages which I marked for myself, because you may have a bad day on that day. We will take each stage at a time and see how the race is unfolding. If the situation is right, then I will try to attack again.