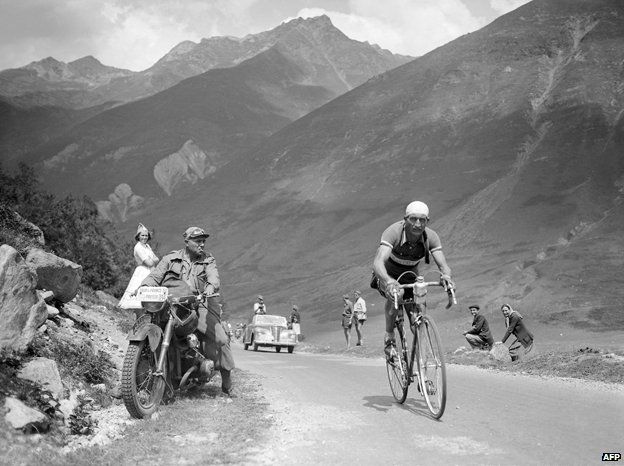 He was the star Italian cyclist whose victory in the Tour de France on the eve of the second world war made him a favourite of fascist dictator Benito Mussolini. But he was also a devout Catholic who helped save hundreds of Jews from the Nazis by using his hero-status to courier false documents around Italy.
"He had everything to lose. His story is one of the most dramatic examples during World War Two of an Italian willing to risk his own life to save the lives of strangers."
Film director Oren Jacoby is describing Gino Bartali, one of the leading cyclists of his era – a three-time winner of the Giro d'Italia, who also notched up two Tour de France victories, 10 years apart, before and after the war.
During his lifetime, Bartali didn't talk about his wartime activities. It was only after his death in 2000 that details began to emerge, and Jacoby fills in some remaining gaps in a Storyville documentary film about Italy's secret heroes.
Bartali, a villager from a poor Tuscan family, was reaching the peak of his career as the war approached.
He won his first Giro d'Italia in 1936, retaining the title in 1937. Then – to Italy's delight – he won the 1938 Tour de France. It was a moment the country's fascist leader, Benito Mussolini, had been looking forward to eagerly.
"Mussolini believed that if an Italian rider triumphed in the Tour it would show that Italians too belonged to the master race," says Bartali's son Andrea in Jacoby's film.
"It was a matter of national pride and fascist prestige that my father won the 1938 Tour, so he was under real pressure."
Bartali was invited to dedicate his win to Mussolini, but refused. It was a grave insult to il duce and a big risk to take.
In the middle of that year's Tour, Mussolini had published a Manifesto on Race, which led later to Jews being stripped of citizenship or any position in government or the professions.
Italy remained, however, a country in which Jews could take refuge, until it surrendered to the allies in 1943. The German army then occupied northern and central parts of the country and immediately started rounding up Jews and sending them to concentration camps.
At this point Bartali, a devout Catholic, was asked by the Cardinal of Florence, Archbishop Elia Dalla Costa, to join a secret network offering protection and safe passsage to Jews and other endangered people.
His role in the network was uniquely suited to his talents – he became a courier. On the face of it he was undertaking the long training rides for which he was renowned, but in reality he was carrying photographs and counterfeit identity documents to and from a secret printing press.
"We've seen documentation that he travelled thousands of kilometres across Italy, travelling the roads between cities as far apart as Florence, Lucca, Genoa, Assisi, and the Vatican in Rome," says Jacoby.
By taking on this role, he put himself at huge risk. At one point he was arrested and questioned by the head of the Fascist secret police in Florence, where he lived.
For a period he went into hiding, living incognito in the town of Citta Di Castello in Umbria. In addition to this, Bartali hid his Jewish friend Giacomo Goldenberg, and Goldenberg's family.
"He hid us in spite of knowing that the Germans were killing everybody who was hiding Jews," Goldenberg's son, Giorgio, says in Jacoby's film.
"He was risking not only his life but also his family. Gino Bartali saved my life and the life of my family. That's clear because if he hadn't hidden us, we had nowhere to go."
Approximately 80% of Italian and refugee Jews living in Italy before World War Two survived, partly thanks to the efforts of Italian sympathisers. It's taken a lot of detective work, by a number of people, to piece Bartali's story together over the last 14 years.
Andrea Bartali says that eventually little by little his father told him about his actions during the war but made him promise not to tell anyone at that time.
"When I asked my father why I couldn't tell anyone, he said, 'You must do good, but you must not talk about it. If you talk about it you're taking advantage of others misfortunes' for your own gain.'"
According to Jacoby, Bartali's reticence is a "defining characteristic" of many of the Italians who were willing to risk their lives in World War Two.
"He didn't want to be acknowledged for what he had done: few of those he helped ever knew his name or what role he had played in their rescue," says Jacoby.
Last September he was posthumously awarded with the honour Righteous Among the Nations by Yad Vashem, the Holocaust memorial and education centre in Jerusalem.
"When Bartali was stopped and searched, he specifically asked that his bicycle not be touched since the different parts were very carefully calibrated to achieve maximum speed," the citation points out.
Andrea Bartali says his father refused to view his actions as heroic.
"When people were telling him, 'Gino, you're a hero', he would reply: 'No, no – I want to be remembered for my sporting achievements. Real heroes are others, those who have suffered in their soul, in their heart, in their spirit, in their mind, for their loved ones. Those are the real heroes. I'm just a cyclist.'"