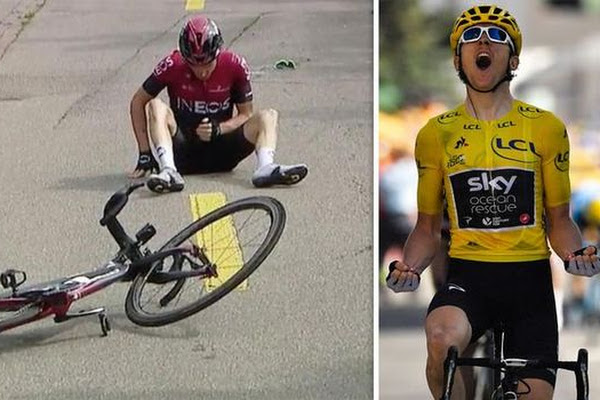 Geraint Thomas says he is "all OK" after crashing in the Tour de Suisse and is optimistic about defending his Tour de France title next month.
The British rider says in a Twitter post he hit his head and needed stitches above his eye after hitting the road with about 30 kilometers left in the fourth stage of the nine-day race in Switzerland.
Thomas, who was forced to withdraw from the race, says it "just means I'll need some big training rides next week" as he prepares for the Tour de France, which starts July 6.
The reigning Tour de France champion explained how the incident occurred, commenting: "There was a lip in the road that came out of nowhere. An Astana rider hit the lip and crashed and I had nowhere to go. I landed on my shoulder and my face and there was quite a bit of blood. You've always got to be cautious with a head injury, and whilst I was keen to carry on, the doctors made the right decision to pull me out of the race."
Thanks for all your messages!! Gutted to leave @tds but luckily I'm all ok. I hit my head and needed stitches above my eye, so the doctors stopped me getting back on my bike. It just means I'll need some big training rides next week now??

— Geraint Thomas (@GeraintThomas86) June 19, 2019
Team Ineos doctor Derick Macleod said it was necessary for staff to take Thomas out of the race due to the level of impact on his head from the crash.
"Geraint took a heavy fall. The main area of impact was to his head," Dr. Macleod said.
"He passed his initial concussion roadside test but with the nature and severity of the impact, it was felt unsafe for him to continue in the race. He was taken to hospital and thankfully all the X-rays and scans have come back clear. He's now back in the Team hotel and in good spirits.
"He's been given the all clear which is great but we will continue to monitor him over the next few days. Knowing Geraint, it won't take him long to get back on his bike but we'll need to ensure he's symptom free in the next few days before he does so.
"We're optimistic he'll make a full recovery over the coming days though and all being well he'll be back on his bike very soon."