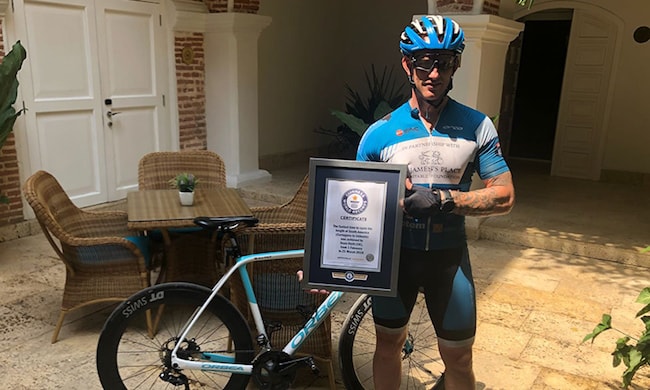 A former special forces soldier and friend of Prince Harry completed 14,000-mile journey from Argentina to Alaska in 99 days has been accused of cheating.
Dean Stott, aged 41, had originally aimed to ride the Pan American Highway in 110 days and thereby shave a week off the previous record.
However, during his journey he learnt of the invitation to the Royal Wedding at Windsor Castle in May and upped his pace and broke the previous record by 17 days, completing the feat in just 99 days, 12 hours and 56 minutes.
Stott has raised £1 million for Prince Harry's Heads Together mental health charity but faces now claims that he 'cheated' by using fake documents to whisk his support team across borders and by riding more than one bike, in breach of the rules.
Sources say that during the early stages he used two bikes, one better suited to flat terrains and the other for climbing.
By the time they reached Mexico, relations between Mr Stott and his crew had become so bad that the team flew back to the UK after a series of rows over the faked papers and unpaid expenses.
Stott hit back at the claims, telling The Times that he believed the accusations were made by disgruntled former members of his support team, who claim they felt "exploited."
"One of the ethoses of the special forces is integrity, and cheating is the worst thing for me," Stott told The Times. "Guinness [World Records] did a full investigation of these claims and reviewed all the evidence and they have confirmed everything was OK.
"We paid for their accommodation, flights and expenses so I do not know what this is all about.
"The guidelines state that you can use only one frame but you can swap wheels and tyres, etc. You are allowed a second frame if your original one becomes damaged but I did not need mine. We replaced the handlebars once but that is all approved."