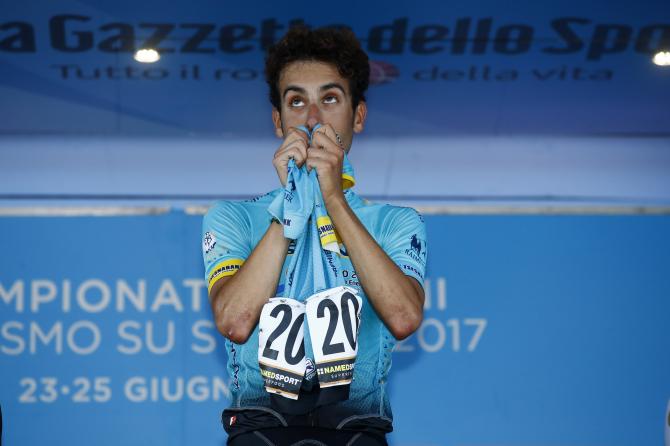 Fabio Aru has taken the victory at the Italian National Championships, crossing the finish line solo in the Italian region of Piemonte.
"During a training ride in Sierra Nevada, Michele Scarponi and I exchanged jerseys because I had the XS size and I wanted to try the S. I haven't told anyone but since I've resumed racing, I've been racing with Michele's jersey. I wanted to offer it after my first victory to his wife Anna and his children Giacomo and Tommaso. Here it is," Aru said after the podium.
"I'm really happy to have made my dream come true today. It's an immense satisfaction," Aru said. "The competition was so high with [Gianni] Moscon, [Damiano] Caruso, my friend Diego Ulissi and many others on good form.
"My plan was to go flat out from the bottom of the climb in the last lap. Once I made a gap, I was informed kilometer by kilometer," he added. "I couldn't believe it when I heard that I was 40 seconds ahead. Looking at the speed, I was always between 50 and 52km/h."