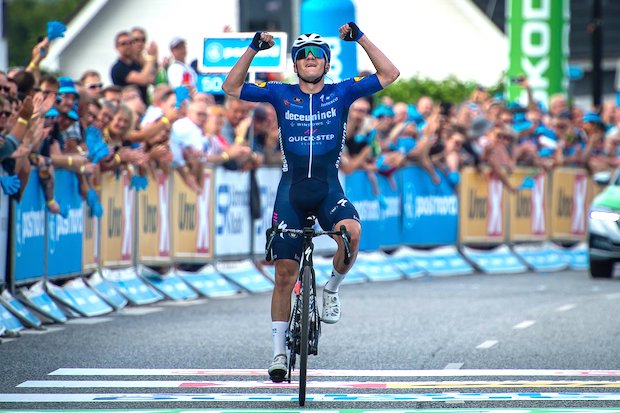 Remco Evenepoel delivered another show of strength on the demanding roads to Vejle in Tour of Denmark, which once again took in a series of short but hard climbs, pitching up to 15%.
You can rewatch STAGE 3 of 2021 Tour of Denmark HERE
The young Belgian made his move with three laps and just over 17km to go, sprinting clear of the rest of the field. A challenge to his breakaway did not last for long, and he then set about building a big lead.
By the time he arrived at the finish line, after lapping the whole peloton, Evenepoel managed to put one minute and a half between him and his nearest opponents, a result that brought also the leader's jersey which now sits firmly on his shoulders.
"We knew it was going to be a hard race, so we remained attentive and always at the front, as the peloton was expected to split at some point," Evenepoel said. "I tried several times, and after one of these attacks I made that small mistake, but luckily, I had an amazing team around me. In the final kilometers, I knew from Michael [Mørkov] that a steep part was about to come and that's where I attacked and made the difference."