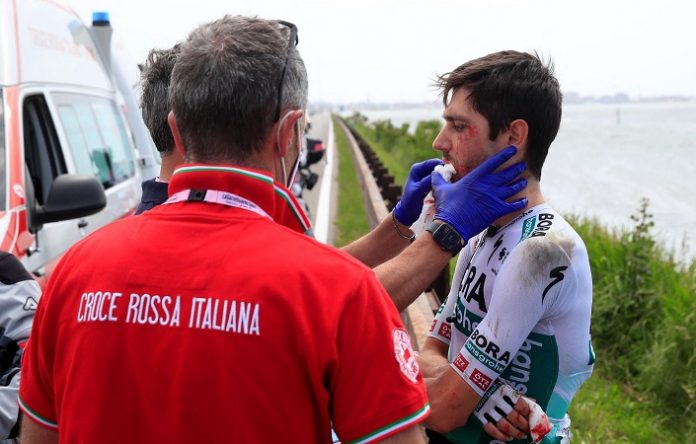 Emanuel Buchmann has suffered from slight concussion during a crash which forced him out of the Giro d'Italia in Sunday's 15th stage.
Buchmann got caught up in a spectacular mass crash which resulted in the stage being halted for 30 minutes shortly after leaving Grado.
The 28-year-old was transported to hospital where a scan ruled out any broken bones, but he suffered cuts to his his face and month and hurt his hip.
The German rider had been sitting sixth and been a contender for the Giro podium.
Organisers neutralised the race to allow medical staff to reach injured riders.
Three others, Natnael Berhane, Ruben Guerreiro and Jos van Emden also quit the race.
"Emanuel Buchmann, our captain with ambitions for the podium, was forced to abandon following a crash," said his team's sports director Jens Zemke.
"We were careful to protect him well over the last 15 days, but nevertheless, he was involved in the large crash today, ultimately with no chance of continuing by virtue of his injuries."