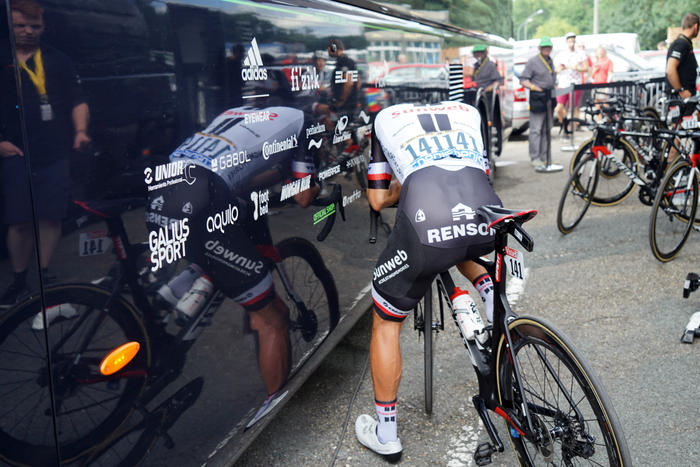 Devastated by his 13th place in stage 10, Michael Matthews (Team Sunweb) arrived at the team bus after the race at a low ebb.
Matthews sat outside the Team Sunweb bus with his head in his hands for several minutes before being consoled by teammate Nikias Arndt.
"Devastated, I think is the word to put out now," Matthews said. "I think normally we have been going quite well. Today was really one of the days we really needed to nail it, and we didn't."
While mathematically possible for Matthews to overhaul the deficit in the 11 stages before Paris, Kittel's dominance meant this was a hammer blow.
"If you want to go for that jersey you have to be up there every single day. Until now, I have been pretty consistent with that, but with this finish, it is a bit disappointing. I think knowing now that if I want to go for it, it is going to be a long battle."
"We will have to have a chat with everyone tonight and see what we did wrong and what we can do better next time," Matthews said. "I think that is something we have to discuss tonight whether we go for it or we give it a miss and stop going for the intermediates and just focus on stages."
Matthews was again irritated by what he believed was a fragile leadout that left him with too much work to do.
"My (mojo) is totally there. I don't know if it was a miscommunication with the lead out train today, but we weren't where we said we wanted to be in the meeting and it left me a long sprint to try even get into the top 15 to even get any points,".