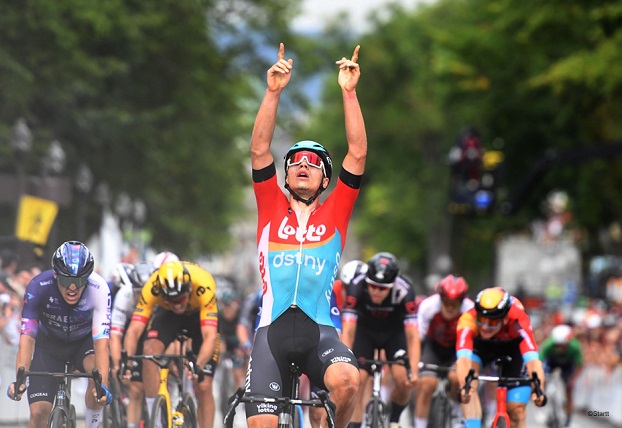 Arnaud De Lie has taken his first WorldTour victory, by winning the Grand Prix Québec in impressive fashion.
Despite various attacks in the end, the GP Québec was decided in a group sprint and it was Arnaud De Lie who showed the strongest. Corbin Strong finished second, Michael Matthews completed the podium.
"I tried to save as much energy until the final sprint, that was crucial today", said De Lie. "As this is only my first time racing GP Québec, I've watched the past editions many times and it learned me a lot".
"We rode the perfect race with the team, but I was a bit far towards the final sprint. Luckily I still had two teammates left who brought me up. I had to launch early and had some work to do but I could take a good speed and held it to the line. To beat riders such as Corbin Strong and Michael Matthews on finishes like these is not easy. So I'm over the moon with this first victory on WorldTour level."
What a sprint!
🇧🇪 Arnaud De Lie had to come all the way from Narnia to win this one.#GPCQM pic.twitter.com/qjQkWnN0AA

— Domestique (@Domestique___) September 8, 2023