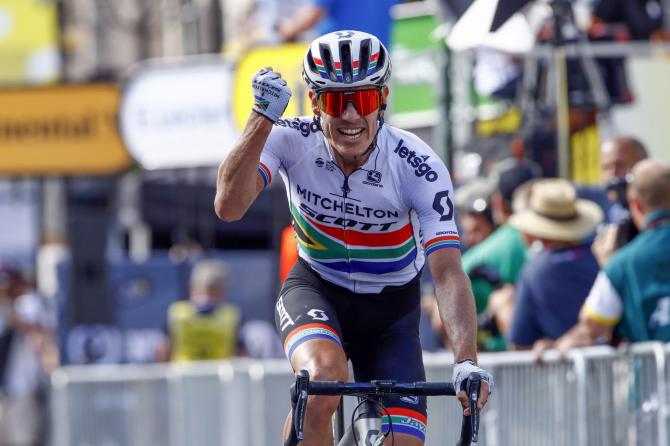 Back-to-back and defending champion Daryl Impey will return to the Tour Down Under in January next year looking to take another piece of history at the Australian WorldTour event.
In 2019, Impey became the first rider in the race's 21-year history to successfully defend his 2018 overall title.
Whilst another successful campaign would leave Impey one short of former Mitchelton-Scott teammate Simon Gerrans' four victories, the South African would be the first to win three editions consecutively.
"I think my chances are as good as all the other favourites and it's about making certain stages count to put myself in a position to win it," Impey said.
"It is harder because you have a target on your back, but when your form is good enough, it's still down to who has the best legs in January."
"All I can do is work as hard, if not harder than previous years.  No doubt there will be a time where I won't win it, it may be this year or it may not, but I try not think about it. Earlier this year I went in giving my best and the same will happen next year too."
Despite returning later in the year than previous seasons, Impey is enjoying a familiar final leadup to the Tour Down Under in South Africa.
The 35-year-old, who won his first stage of the Tour de France this year, will fly into Adelaide ahead of the race, which begins on the 19th of January, with as much motivation as ever.
"My preparation is going quite well,  especially since I started differently to the past," Impey explained. "Normally I am in South Africa in October already, but this year I spent more time in Europe to relax more from a busy season and only arrived in mid-November."
"It takes a lot of effort to be ready in January and it's quite challenging because all my family and friends are starting to relax before Christmas, while I'm trying to build for TDU.  I have a big support structure with my wife making sure I can tick all the boxes and focus on my training so it's easier when you have that.
"I get motivated because I know I have six other guys from the team working their arses off in December too, and it's a race I love, so for me it's pretty simple. It is getting harder each year but the last Tour Down Under really gave me such a big lift for the season."