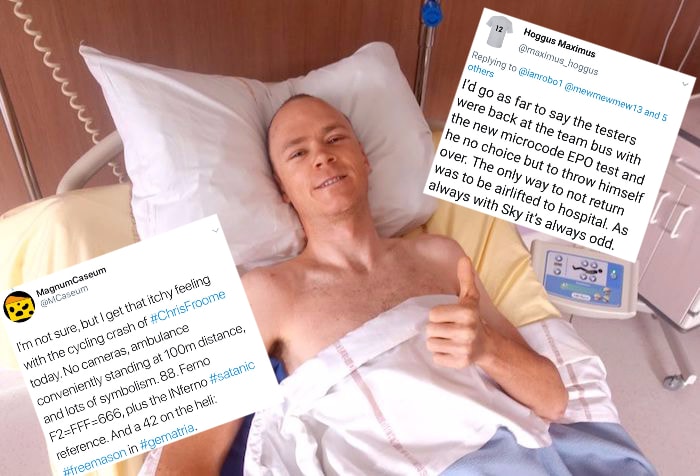 Chris Froome's terrible crash at the Criterium du Dauphine has set off a firestorm of baseless conspiracy theories online.
One hoax suggests Froome crashed on purpose to avoid a doping test or even a doping suspension.
https://twitter.com/earther_the/status/1140388676217835520?ref_src=twsrc%5Etfw%7Ctwcamp%5Etweetembed%7Ctwterm%5E1140388676217835520&ref_url=https%3A%2F%2Froad.cc%2Fcontent%2Fnews%2F262336-live-blog-chris-froome-crash-conspiracy-theories-complete-satanic-references-and
Froome was airlifted to hospital in Saint-Etienne for emergency surgery after slamming into a wall at high speed during practice ahead of the fourth stage of the Criterium du Dauphine race in central France.
The force of the impact fractured his pelvis, right femur, hip, right elbow and left him with broken ribs.




However, some Twitter users believe he faked his crash.
I've read some crazy stuff on twitter.

And then I read this…..

⭐️⭐️⭐️⭐️⭐️ pic.twitter.com/2T14XdqxDg

— Jim Hancox (@Jimhancox1) June 14, 2019
https://twitter.com/MCaseum/status/1138931304219779073?ref_src=twsrc%5Etfw%7Ctwcamp%5Etweetembed%7Ctwterm%5E1138931304219779073&ref_url=https%3A%2F%2Froad.cc%2Fcontent%2Fnews%2F262336-live-blog-chris-froome-crash-conspiracy-theories-complete-satanic-references-and