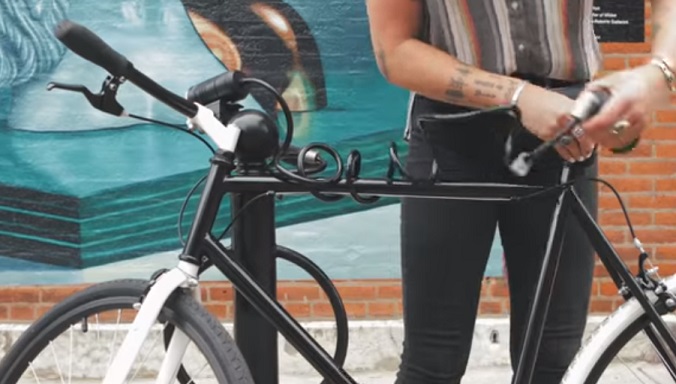 The Headlight
The Lemurlock headlight consists of a single ultra-bright, high-power LED, funneled through a Carlco spotlight lens. Using a custom-made printed circuit board, the headlight will put out 200lumens with an average run time of 7 hours (using a standard 3,000 mAH 18650 battery). So in short, this light is bright, and will last you throughout several rides. The light's housing is made of rust-proof 6160 aluminum, protecting the electrical elements (which means you can ride through all the nasty weather that you want!). The headlight is easily attached and removed by depressing a plastic release tab.
The Taillight
The taillight features two red 5mm LEDs, putting out a total of 30 lumens, also with an estimated run time of 7 hours. The taillight's 6160 aluminum housing also secures the tail end of the coiled cable lock. It is built around the cable, making the housing theft-proof while in the "locked" position. You can easily attach to and remove from the seatpost by depressing the plastic release tab.
The Lock
The lock is a 6 foot, 9mm, coiled steel cable with built in wiring to power both lights. Each light is built around the cable itself, making each theft-proof when locked. A barrel key lock, and a 1/4″ stainless steel tab float along the cable, allowing the user to engage the lock as loosely, or as tightly, as they like.
https://youtu.be/ASwtaSpdcik