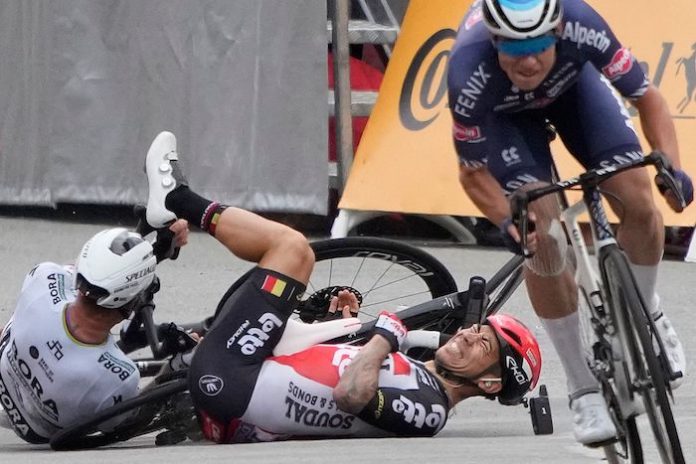 After only three stages, the Tour de France has come to an end for Caleb Ewan after the Lotto Soudal leader crashed in the final of the stage to Pontivy and broke his collarbone.
"I don't remember much about the fall," he recalls. "It happened very quickly. What I remember is that I wanted to start my sprint quite early. When I started, the men in front of me (Merlier & Philipsen) closed the gap on the right, so I had to hold back for a while and hope that there would be room again. Meanwhile, Sagan and I got very close. I hit a wheel and went down with him."
"This is the first bone I break. I knew almost immediately that this was the end of my Tour. Normally you don't feel as much when you fall because of all the adrenaline. But straightaway, I was in a lot of pain and as the medical staff were pressing on my collarbone, I felt it clicking so I immediately knew something wasn't right."
The crash forces Ewan to put an end to his big goal this year: to win a stage in all three Grand Tours. In Giro d'Italia he already succeeded by winning the fifth and seventh stage but he leaves the Tour empty-handed.
Although the 26-year-old rider still has to undergo surgery for his injury, he is already looking ahead to the future.
"Unfortunately, this is a part of cycling. I need to let it heal and make plans for the future. There should be plenty of time to let it heal towards La Vuelta, so hopefully this can still be a goal of mine this year."