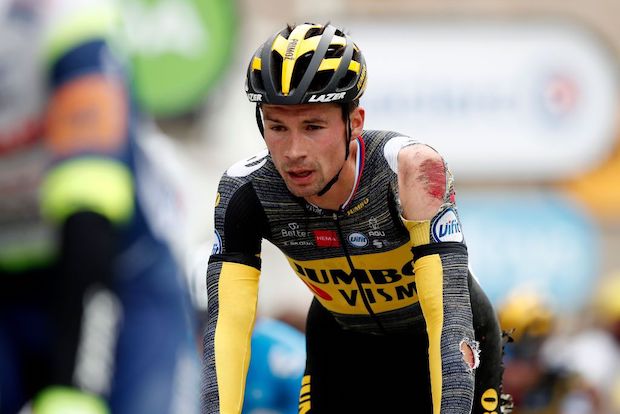 Primoz Roglic has crashed hard in the finale of stage 3 at the Tour de France ripping his shorts and jersey and looking battered and bloodied by the end of the stage.
"Luckily we saw that everything is still in one piece and nothing is broken but I have scars all around my body," Roglic said after being taken by ambulance to the Tour de France x-ray truck.
"It was not the best day for us but we go on. We can still continue. It was a super stressful final with all these roads," he said. "Most of all, it's shit because we all train hard for this. Nobody deserves to be on the ground."
"First I have to get through the next few days and then we'll see. Not the best day for us but we continue. As long as we are in the race, we can always fight," he concluded.
Earlier on the day, Roglic's teammate Steven Kruijswijk also crashed and suffered some injuries to his finger. He had some stitches done to it and will also be at the start line of the fourth stage.