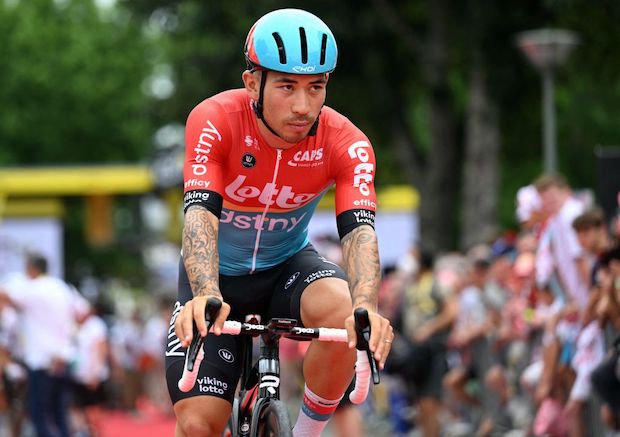 Caleb Ewan is allowed to leave Lotto Dstny if he wants, team manager Stéphane Heulot confirmed.
"If he can become happy with another team, we will grant him that."
The sprinter and the Belgian team are currently in a conflict after Ewan left the Tour de France during stage 13 without winning any stage. The team didn't had good words for that.
"We expected more. We saw in the last sprint he wasn't in it any more," Heulot said after stage 13.
"His lead-out man was right next to him. That's disrespectful to his leadout. I can't accept that. The lead-outs take crazy risks to be there. I can't do anything, it's up to him to sort it out, I don't know how to handle this kind of character, I've never seen that.
"He asks for a lot from his team, it's a lot for him, always for him. I'm very pleased Van Gils [second on stage] was able to react like that."
The 29-year-old Australian is in his fifth season with Lotto Dstny.
"If he finds another team, we will not hold him to his contract," Heulot said.
The tension between the rider and the team has been simmering for a while. At the UAE Tour (end of February) Ewan is said to have already been critical of a number of things within the team.
At the Tour, the atmosphere did not get much better due to the lack of a stage victory. Ewan started the three-week race through France well with a third place in Bayonne and a second place in Nogaro the next day. At the sprint opportunities in Bordeaux (45th) and Moulins (15th), he did not come close to the podium.