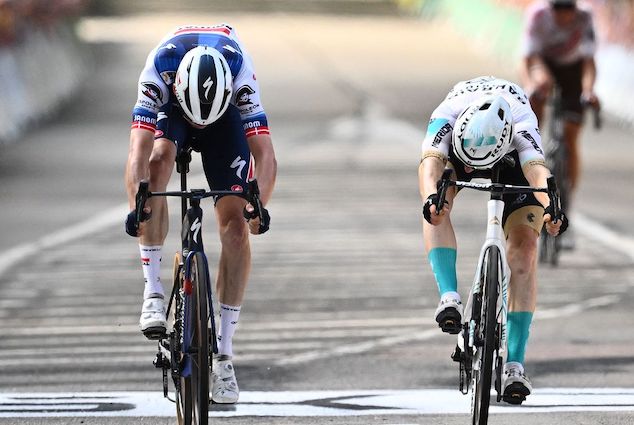 Matej Mohoric fought tears of relief after edging Kasper Asgreen to win the Tour de France's closest ever stage finish on Friday.
The Slovenian rider broke down after winning, fought tears during the award ceremony for the 19th stage, and again struggled with his emotions as he spoke about his perfectly timed race – the fifth fastest stage in Tour history.
Few watching were certain who won as Mohorič finished only four thousandths of a second ahead of Asgreen in the tightest finish ever recorded.
Mohoric covered his face and sobbed when confirmation came that he clinched his third ever stage win.
"It means a lot because it's just hard and cruel to be a professional cyclist," Mohoric said. "You suffer a lot in preparation, you sacrifice your life, your family. You do everything you can to get ready. And then after a couple of days, you realize that everyone is just so incredibly strong, that it's just hard to follow the wheels sometimes."
Mohoric referred to his Bahrain teammates' hard work, to his own suffering, to rivals' suffering, and to teammate Gino Mäder, who died after crashing into a ravine at the Tour de Suisse last month.
"Sometimes you feel like you don't belong here because just everyone is so incredibly strong that you struggle to hold wheel sometimes," Mohorič said. "You know that the guy who is pulling is suffering just as much as you do. It's just cruel to then be able to follow the decision to attack when Kasper went."
Ben O'Connor had been first among the three breakaways to attack for the line but he was overhauled by Asgreen and Mohoric, who seemed to cross at the same time.
"He was so incredibly strong," Mohoric said of Asgreen. "He went on the attack yesterday and won the stage, and today, to have the will and the determination to do it all over again – you just feel that you don't belong here. And then I followed him. I knew I had to make everything perfect. And I tried my best, not just for myself, also for Gino and for the team. And then you almost feel like you betrayed them because you beat them."
Two stages remain including Sunday's finish on the Champs-Élysées in Paris.
⏪ The final KM of a high-intensity stage, and the closest finish of the #TDF2023 so far.

⏪ Le dernier KM d'une étape à haute intensité, et l'arrivée la plus serrée du #TDF2023 jusqu'à présent. pic.twitter.com/ZwZg9n91oR

— Tour de France™ (@LeTour) July 21, 2023