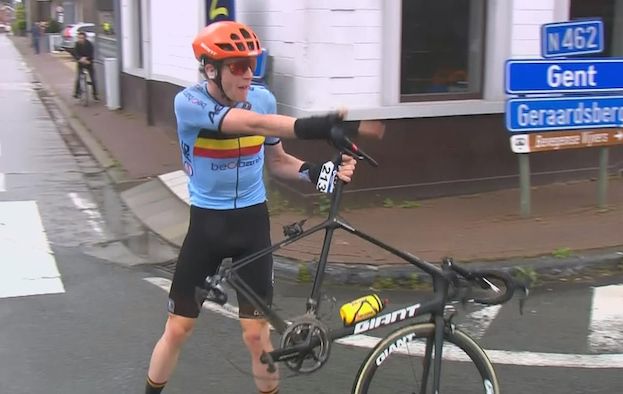 Nathan Van Hooydonck was involved in a bizarre incident during the second stage of Belgium Tour after a neutral service mechanic refused to give him a spare wheel when he needed it.
Second footage shows the CCC rider throwing his back wheel in the direction of the neutral service car when it stops to service him. After the wheel was thrown, a Shimano mechanic appears to deny Van Hooydonck the wheel he needed.
The Belgian rider protested angrily, trying to grab the wheel and even chasing the neutral service mechanic.
Meloxpliquen#BaloiseBelgiumTour pic.twitter.com/swFMj2CRuv

— RubénEBH (@RubenEBH) June 13, 2019
Wracając jeszcze do tego, co zrobił Nathan van Hooydonck na drugim etapie #BaloiseBelgiumTour. Oczywiście nie jestem złośliwy i nie napiszę, ze to "pomarańczowe standardy", bo kolarze tej ekipy wcale nie jeżdżą ze sztycami w czterech literkach. pic.twitter.com/z3UJVE9IJ0

— Olek Sieradzki (@oleksieradz) June 13, 2019