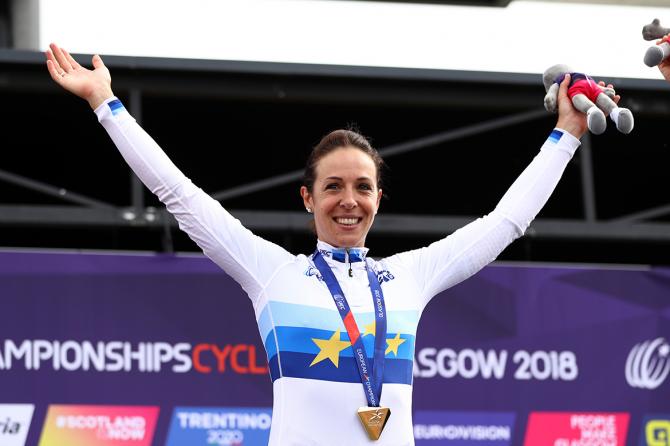 Marta Bastianelli won a sprint finish with the great Marianne Vos to strike gold in the European Championships road race on Sunday.
The Dutch team seemed to be controlling affairs at the end of the 130km race, ready to set up victory at the Glasgow Green finish for Vos, only for former world champion Bastianelli to beat her to the punch with a scintillating final burst.
Vos, often hailed as the greatest woman cyclist in history, roared through for the silver but her fellow 31-year-old rival had already flown, beating the Dutchwoman just as she had done at their world championships duel in Stuttgart in 2007.
After nearly three and a half hours of fascinating racing on the undulating nine-lap course, Germany's Lisa Brennauer, gold medalist in Saturday's individual pursuit on the track, took the bronze.
"It's a very hard race, and this win is for my team, because my teammates stayed with me from start to finish," Bastianelli said.
"The sprint was very hard but I think it was very technical. Yesterday we said we had to be top three in the last corner. It was crazy, because it was very hard and fast. I don't know how many kilometers per hour it was but it was very hard."
European Championships 2018 – Women's Road Race results:
| | | |
| --- | --- | --- |
| 1 | Marta Bastianelli (Italy) | 3:28:15 |
| 2 | Marianne Vos (Netherlands) | ,, |
| 3 | Lisa Brennauer (Germany) | ,, |
| 4 | Elena Cecchini (Italy) | ,, |
| 5 | Rasa Leleivyte (Lithuania) | ,, |
| 6 | Christina Malling Siggaard (Denmark) | ,, |
| 7 | Kaat Hannes (Belgium) | ,, |
| 8 | Anna Van Der Breggen (Netherlands) | ,, |
| 9 | Lorena Wiebes (Netherlands) | ,, |
| 10 | Danielle Rowe (Great Britain) | ,, |