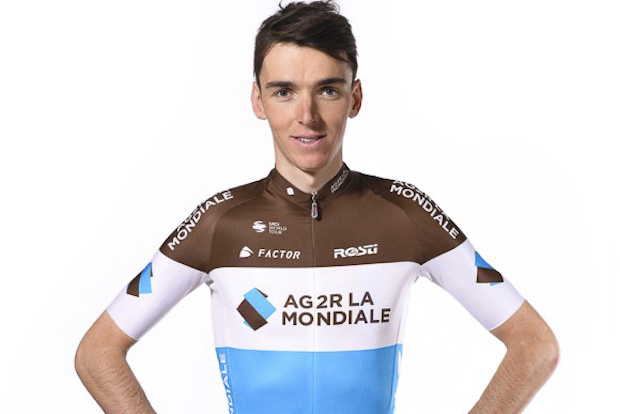 AG2R La Mondiale have unveiled a new look for their 2018 kit.
The new design involved the collaboration between the main sponsor, the riders, the team management and the clothing supplier Rosti.
AG2R has moved away from the white colour with just a stripe across the chest. Logos have been repositioned to get the right camera angles for during the race, on the podium and in front of the journalists, to give attention to all of the team's partners.
"The shirt our riders were wearing dates back to 2009 when it was created to develop brand awareness around AG2R La Mondiale, the company created by the merger between AG2R and La Mondiale," said Yvon Breton, Head of sponsoring at AG2R La Mondiale. "We felt that the time had come to revamp it a bit.
"The design of the new one meets several objectives, and more particularly ensuring our riders can be easily identified in the peloton, providing comfort with hi-tech fabrics, parading the colours and identity of AG2R La Mondiale and highlighting all the pro team's partners. I'm really proud of the result and think we did a great job."
Vincent Lavenu, General Manager of the team is pleased with the result of the new design. "A top-tier pro cycle team has to review its positions constantly, change things, find new sources of inspiration in the sporting domain and manage its image and that of its partners," he commented. "This new design, which combines modernity and tradition with a hi-tech edge provided by our new clothing partner, Rosti, is totally in keeping with the professionalism and elegance sought by our pro team AG2R La Mondiale.
"I'm really looking forward to seeing our riders take centre-stage bearing our new jersey."