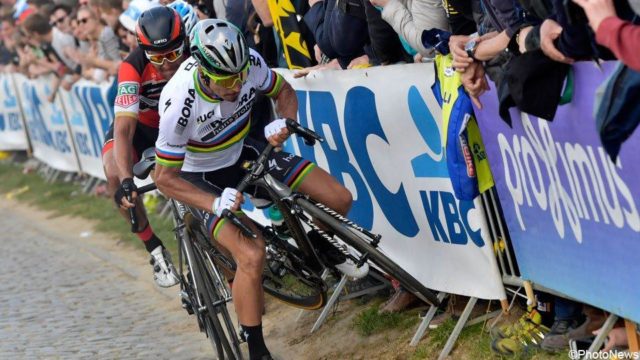 Having won the Tour of Flanders last year, Peter Sagan knew only too well how hard the race would be.
As with all of the classics, positioning is paramount. While the Kapelmuur may have appeared too far out from the finish to have an impact on the outcome of the race, this was where the decisive move came. With almost 100km still to race, a group of twenty at the head of the peloton made their escape, with some of the race's favourites in their midst. While Bora-hansgrohe's Maciej Bodnar was among these riders, Peter Sagan was not, and the escapees quickly built up a lead of a minute on the peloton, who did not appear eager to work together to make the catch.
While the Slovak rider showed no sign of giving up, having missed the first break, a crash with 17km to go floored the World Champion. While he climbed back on his bike, it was clear that as the engine of the driving force in the chasing group, the race to make the catch had ended. While Gilbert took the win, Sagan crossed the line a couple of minutes later, clearly disappointed with the day's outcome.
"The Tour of Flanders lived up to its reputation", Sagan said from the finish. "It was a complicated race, but I felt I was in good form and in a position that would have allowed me to reach Gilbert in the final stretch. Unfortunately, my crash at the Oude Kwaremont meant it was all over and that was a pity because the team did a tremendous job to help me and keep me safe."
"It was my fault," he said. "I was close to the barriers. I was in control when I was close to the barriers, but I think we caught a jacket or something, because if I'd hit the barrier, I would have been on the ground straight away, and the bike would have stayed there.
"I felt that something caught me, but I was able to keep going forward. I wasn't stopped straightaway. When you hit the barrier like that, your handlebars would be twisted. What hampered me then was that they were going flat out behind me, and rode into me. I broke my rear wheel and my derailleur and I couldn't keep going."