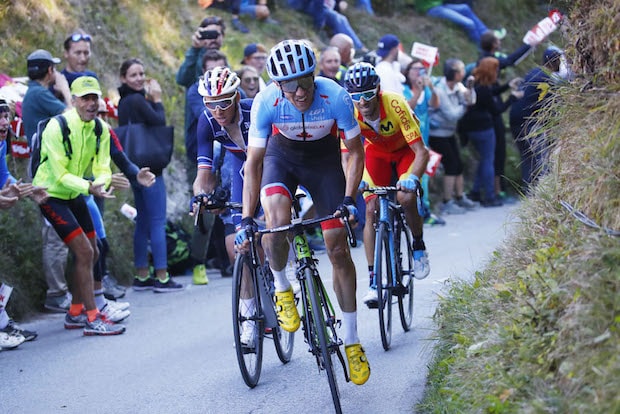 Michael Woods had a stunning ride on Sunday to finish third at the World Championships men's road race in Innsbruck, Austria. It was Canada's first elite men's podium performance since Steve Bauer finished third in Barcelona in 1984. 
"To be a bronze medallist at the World Championships is not something that I could have dreamt of when I was working behind a teller stand at a bank a few years ago," the 31-year-old said.
"I think I started to show glimpses of these types of performances last year. This year, I've really stepped up my consistency and shown that now, as long as I am healthy, I can contend against the best riders in the world."
"This confidence and inner-belief has made racing at the WorldTour a lot less scary and a lot more fun," Woods said.
"When I first started racing at this level, I spent half of my races in fear of crashing or getting dropped. I'm seeing bike racing far differently, and when it goes well, it is damn fun."
"I was disappointed in the immediate aftermath. I can't believe that I'm saying that now, but that's how I truly felt when I crossed the line," explained Woods.
"At 200 metres to go, I thought I was going to beat Valverde, but once I started to cramp, my chances faded away.
"No matter how good you are, you won't find yourself in a race-winning position with 300 meters to go that often at a World Championships. To be that close and have it go out the window because of cramping, in that moment, it was disappointing.
"After having 24 hours to think about it, I'm over the moon. I didn't sleep last night. That's how excited I was."
Woods will close out his season at Il Lombardia after racing also Giro dell'Emilia.
"[I] start shifting my focus to next year, I just hope I can continue to learn from these past results,".
"I'm aim to use this perspective to continue my progression in this sport and inspire more kids to get on bikes and more fans to cheer for a Canadian kicking it in the WorldTour."