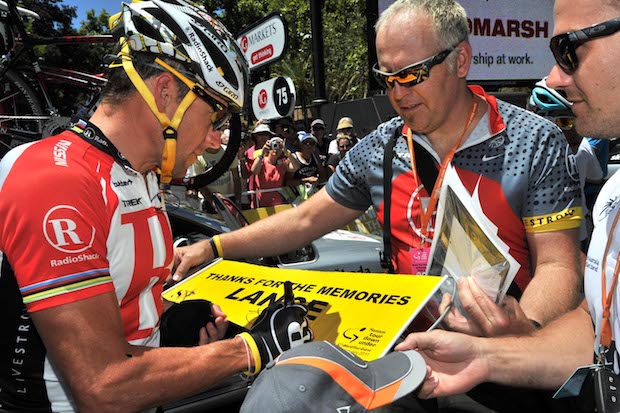 In 2009, Lance Armstrong made his return to professional cycling at the Tour Down Under, boosting visitor numbers and almost doubling the tour's economic impact from $17.3 million to $39 million in the space of 12 months.
The American competed in three consecutive TDUs, before being stripped of his seven Tour de France titles in 2012 for doping.
"Lance Armstrong's appearance at the Santos Tour Down Under came at a time when he was considered the greatest cyclist in the world. He brought the eyes of the world with him to South Australia when he rode in the TDU, taking the race to a whole new level," South Australia's sports minister Leon Bignell told The Advertiser.
"The state government has continued to leverage this exposure, ensuring crowd numbers continued to climb even after Lance's final TDU appearance" Bignell added.
"His presence, the returned benefits to the race and to this state and to awareness around cancer … money cannot buy," Tour Down Under race director Mike Turtur said.
"The smallest increase that we saw was 100 per cent, it was staggering, and we are still benefiting from that legacy."
Lance Armstrong told The Advertiser that the TDU was, and is, "without a doubt" one of the best cycling races outside Europe.
"If you had asked me three years ago, I would have said 'absolutely' (I regret the comeback), but where I sit today, five years post, I wouldn't change a thing,".