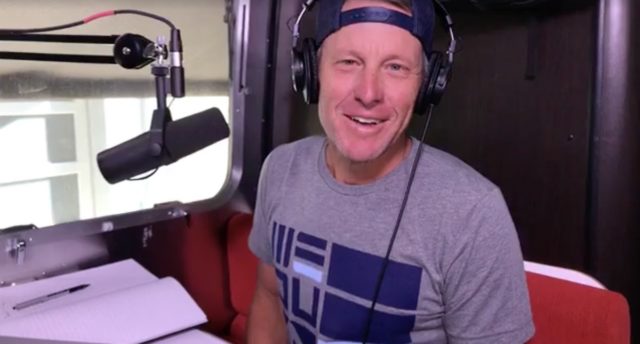 Lance Armstrong has launched a daily podcast focusing on the 2017 Tour de France, called Stages. 
Co-hosted by longtime Austin radio personality JB Hager, Stages podcasts are available about an hour after each stage finish.
"It's tough to call it live, almost impossible, but it'll be a short, concise recap show of the day," Armstrong told Yahoo's Dylan Stableford.
"The last four years I really haven't followed much cycling, and literally to this day I don't follow a ton. But last year, I found myself watching more of the Tour. And so the idea behind the Forward was that it was a forward discussion. It wasn't a cycling discussion.
"It wasn't to talk about the past, rehashing things that have already been extensively published. But any time I touch on cycling, whether it was the podcast with all my old teammates or any kind of cycling discussion, the reaction is pretty overwhelming. And so, I thought, 'What if the fans, the Tour fans, what if they had another option for a recap show?'
"I don't love the NBC coverage. I think there's a lot that can be improved there. So I decided to go for it this summer and we'll see, well, most importantly we'll see if I'm good at it or if I suck at it. And then secondly we'll see how it's received."
"I mean it's pretty well known that my name is not allowed to be mentioned. Period. That's a fact. Which, whatever. That seems a little odd but that's the position NBC Sports has taken."