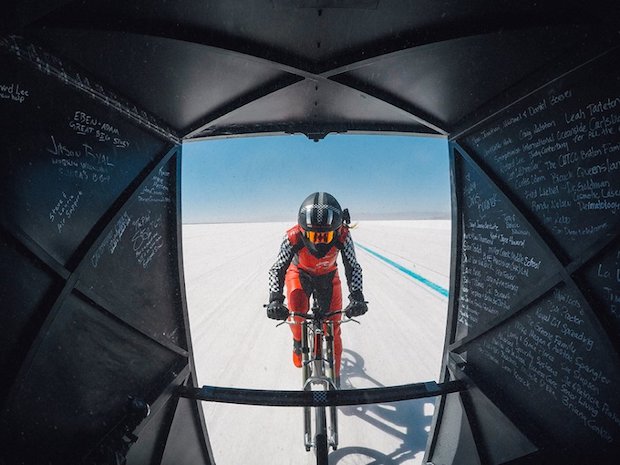 Denise Mueller-Korenek hit 183mph (294.5kmh) on the Bonneville Salt Flats of Utah in the USA to ride to a new World Record for a human on a bicycle.
Using a custom made bike and drafting behind a car with what looks like a garden she attached to the back, Mueller-Korenek smashed the previous record held by Dutchman Fred Rompleberg of 268.76 km/h and her previous women's record of 237.7 km/h. Her aim was the surpass 270.37 km/h but in her attempt she far exceeded that establishing the new benchmark at 294.51 km/h.
She rode a custom-built KHS land speed record bike with a carbon frame and drafting behind a fairing attached to very dragster that Rompleberg used, which towed her up to a speed of 50 miles per hour (80 kph) before releasing her.
"It's like a dance," Mueller-Korenek said. "Behind the fairing, I'm constantly adjusting, floating forward and floating back. Shea is doing her own dance, accelerating and decelerating so she doesn't drop me as I'm floating back or have me hit the car as I'm coming forward. She has to match my stride."
"Imagine being in the back of a box truck with no windows," she said. "Everything is just white with no reference points, like cars or telephone poles zipping by. You can hear the engine start and you can feel them taking off and the sound of the engine, and what you feel tells you when you're going fast."