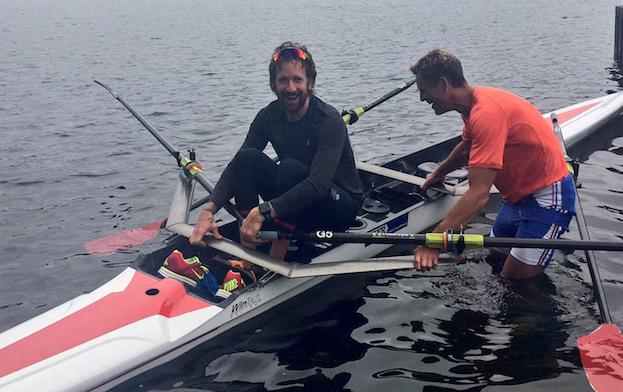 (Reuters) – Bradley Wiggins could fulfill his aim of becoming an Olympic rower after swapping a bike for a boat, according to Beijing gold medalist Mark Hunter.
Wiggins, Britain's first Tour de France winner in 2012 who also won five Olympic cycling golds, has taken up rowing after announcing his retirement last year.
The 37-year-old is in training for the British Indoor Rowing Championships on Dec. 9 at the London Olympic velodrome where he will test himself against the country's best oarsmen.
With double Olympic gold medalist James Cracknell coaching him, Hunter would not be surprised if Wiggins makes the transition from rowing machine to the water.
"I think it's great for the sport because he is a phenomenal athlete and it's exciting to see what he can do," Hunter told Reuters at a Sports Analytics Conference hosted by KPMG in London.
"The rowing machine is just like a watt bike and he has a big engine and he is super fit so I think he will get some good results and go below six minutes for 2,000 meters."
"On the water? That's a different challenge being able to take that strength and power and the engine he has and put that on a boat. It's a different skill set.
"There are moving parts as a rower. You have to work with other people and train day in and day out in a system. That's maybe a culture that he hasn't been in.
"I've seen others try and fail. But hats off to Bradley. He wouldn't be doing this unless he believed he could do it."
Hunter believes the eight-man boat offers Wiggins the best chance of a shot at the 2020 Olympics.
"I think he would be more suited in the sweep side of the sport, the rowing side not the sculling," said Hunter, who won the lightweight double sculls in Beijing.
"Sweep is a lot easier to learn than sculling which is more technical. It's easier learning to use one blade than two.
"And the eight is a big boat that can be balanced for you and there are people who can help you. It would be great to see him race at the Henley Regatta and try to win that and work up."
"Why would he put himself through it?" he said. "I think he's looking for a new challenge. We've seen others go the other way from the boast to the bike like Rebecca Romero. But going from cycling to rowing. This has never been done before."
Hunter also thinks the relative weakness of the current British squad offers a chance for Wiggins.
"It's the perfect window for Bradley because the team is not strong at the moment. Lots of people retired, there are more seats, it's a development phase."
And in Cracknell, Hunter believes Wiggins has the right mentor.
"I think it's great. I know James Cracknell is giving him some coaching and James is crazy as well so it will be interesting. He's an endurance beast," Hunter said.
"I think he and Bradley are probably of a similar mindset. You might not want them in a boat together but James is the ideal guy to give Bradley some insight."