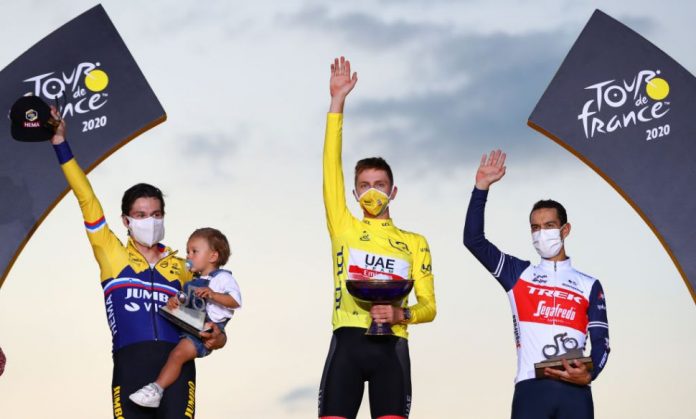 While although last year's staging of the Tour De France was delayed due to a global pandemic, the drama was in no less supply and with Tadej Pogacar's dramatic time-trial performance on the penultimate stage, he would go on to secure a famous outright victory.
His incredible showing of raw power on the second to last day, was one that seriously flipped the script and although it meant that Slovenia would serve up a first ever Tour De France winner, it was not the name that everyone had expected.
Because going into the 2020 edition of the famous race, the name on everyone's lips was that of Primoz Roglic and after getting pipped at the very last (bar the processional final day ride around Paris), he will have a point to prove this time.
While when it comes to the pre-race odds, it is a Slovenian lockout for the two current shortest prices and perhaps unsurprisingly, it is last year's winner who is currently favored over his rival and compatriot by the best setting sites on the market.
Which means it may be difficult to look past the former Yugoslav nation for this year's winner and if it is not going to be either Pogacar or Roglic, it could be a return to British powered dominance at the Champs-Élysées.
With Chris Froome already declaring that he is not in the right place to return to the top step of the podium, British interest will instead switch to Geraint Thomas and with the Welshman also being somebody who knows this race very well, that's not a bad direction to take at all.
After being left out of the Ineos team in 2020, Thomas will obviously have a fire within his body and it is that fire which led him all the way to victory in 2018, when he was wearing the famous colours of Team Sky.
The sponsor may have changed in recent times, but the pure desire to win this Grand Tour has certainly not and after also leading Egan Bernal in 2019, they had to make do with being nowhere near last summer.
A status and a feeling that must have been rather strange for such a dominant force within cycling and when you consider that in either the Sky or Ineos iteration, they have won seven of the last nine Tour De France races, they are not particularly good losers.
That's not necessarily a bad thing, if anything far from it and it is this unrelating desire to crush their opponents which has led a quartet of Bradley Wiggins, Chris Froome, Geraint Thomas, and Egan Bernal to victory since 2012.
For those who offer arduous support to the efforts of Thomas, they will point to the fact that the class of 2020 was somewhat weaker without his appearance and the success of Slovenia's Pogacar was nothing more than earning a paper crown.
Now though, there can be nothing in the way of "what if" as the pride of Britain will be tasked with going pedal to pedal with the best that Slovenia have to offer and because of this, a titanic Tour is not all that far away.
Of course, this is not solely a playground for only three genuine General Classification hopefuls and with Thomas currently third favourite in the outright market, he finds himself at shorter odds than both Julian Alaphilippe and Egan Bernal.
For Alaphilippe, 2020 was most definitely a breakout Tour and with his home nation being desperate to crown a winner of their own once again, he will undoubtedly have an incredible amount of weight on his shoulders.
Many a French cyclist has been perceived as the next big thing and with that, the hope of a nation is placed upon them. Hope that comes in dreaming of a first French overall win since Bernard Hinault in 1985.
However, time after time and year after year has seen such hope dissipate in the final week of the route and although Alaphilippe will be fantastic value to win a stage or two, he may well fall short when it really matters.
While even though France may not find a new Hinault, they will be glad that more normality will be afforded to the race this year and as great as the cycling is, there is no better sight than a legion of fans shouting from the roads each day. Something, that is only now a couple of weeks away.