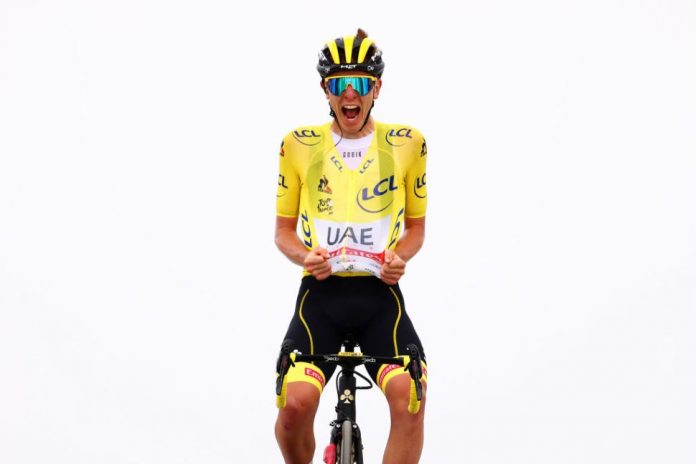 Watching professional cycling over the years has been a bit Marmite-like, you either love it or you hate it. However, it has grown in popularity over time, with occasions like the Tour De France becoming a global sensation and attracting millions worldwide. The amount of money invested in the sport has increased as a result of it drawing more spectators and sponsors.
As a result, some of the best cyclists in the world are now being paid better than ever before. Who are the highest-paid cyclists in the world, then? Without further ado, let's find out.
Tadej Pogacar
It will come as no surprise that the two-time Tour De France champion Tadej Pogacar stands at the top of our list, just as he did in Paris in the summers of 2020 and 2021 with the yellow jersey in tow. At just 24 years of age, the Slovenian sensation is the highest-paid cyclist in the world, and he pocketed a whopping €6m throughout the 2021/22 season. Despite being stunned by Denmark's Jonas Vingegaard last summer, Pogacar has been made the favourite for success on the streets of France once again this year by OddsChecker, which compares cycling odds and offers.
The talented young cyclist's successes at such a young age have seen him become a fan favorite within the cycling community, and his marketability in the sport has seen him attract sponsors that aid his career financially. His professional biking career began in 2019 with the UAE Team Emirates, and since then, he has won multiple awards and accolades. In 2020, he pulled off a remarkable feat by winning the Tour de France on his debut, making him the youngest winner of the race in over a century in the process.
Chris Froome
British sports has had no end of superstars over the years. The likes of David Beckham, Lennox Lewis, and Jonny Wilkinson all spring to mind when thinking of sporting sensations that call the British Isles their home. However, Chris Froome should be considered one of the country's greatest-ever sporting exports, and best paid, if we take into account his €5.5 million salary last season.
Born in Kenya to British parents in 1985, Froome moved to South Africa as a child and began racing while attending school in Johannesburg. In 2007, he began his professional career with the South African team, Konica Minolta. He later moved on to Team Sky, where he found incredible success, winning the Tour de France an incredible four times, including three in succession between 2015 and 2017. Froome looks as though he has returned to his very best following a number of potentially career-ending injuries and after finishing in the top 30 in France last year, he will be looking for one final yellow jersey this year before he hangs up his boots.
Froome's commitment and effort have unquestionably paid off, as evidenced by the multiple accolades and millions of money he has earned over his career as a professional cyclist. Despite his severe accident in 2019, he has remained committed to his sport and continues to inspire fans around the world.
Peter Sagan 
Slovakian star Peter Sagan comes in in third place with a salary of €5.5 million. The 33-year-old has enjoyed a successful career, winning seven green jerseys, three world championships, and numerous stages in tours across Europe. His robust personality and marketable image have seen him become a favorite among sponsors.
He began riding at a young age and rapidly established himself as a skilled rider. He was born in Slovakia in 1990. He turned pro in 2010 and earned his first Tour de France stage win in 2012 at barely 22 years of age. Sagan has won numerous titles throughout his career, including an unprecedented three consecutive UCI Road World Championships from 2016 to 2018. In addition to his competitive achievements, he is known for his charismatic personality and quirky antics, which have endeared him to fans around the world, including garnering him the nicknames 'Peter The Great' and 'Three-Pete'. His career earnings are nothing to scoff at either, with estimates putting his net worth at over $15 million.
Geraint Thomas
Geraint Thomas is another of Britain's greatest exports. He romped to Tour de France success in 2018 and finished in third place at the fabled event last summer. The Welshman has a history of being one of the highest-paid cyclists on Team Sky, now called Team Ineos Grenadiers and with a salary of €3.5 million last season, it's clear to see why
As an athlete, Thomas has also competed at both the 2008 and 2012 Olympic Games, winning gold medals on both occasions. Off the bike, he has also had a successful broadcasting career, presenting coverage of the Tour de France on ITV4, when he isn't competing for the yellow jersey himself that is. His profits are as remarkable as they come, and depending on whose sources you trust, his net worth is reported to be between £5 million and £10 million. His commitment, hard work, and dedication have made him a cornerstone in the cycling community, and his accomplishments will likely continue to motivate bikers for many years to come.
Egan Bernal
The Colombian cyclist was the fifth-highest-paid cyclist globally last season, raking in €2.8 million throughout the course of the campaign. Bernal hit the headlines in 2019 when he became not only the first Colombian to win the Tour De France but the first cyclist from Latin America as a whole. Since his ascent to professional cycling's mountaintop, he has remained one of the most recognizable figures in the sport.
Bernal, born in Bogotá, Colombia, on January 13, 1997, started competing in local contests at a young age. Over the years, he has risen to prominence, including that maiden success in Paris at just 22 years old. Fans and critics alike have praised his amazing speed, strength, and endurance, making him a household figure in the world of Latin American sports as a result of his remarkable accomplishments.