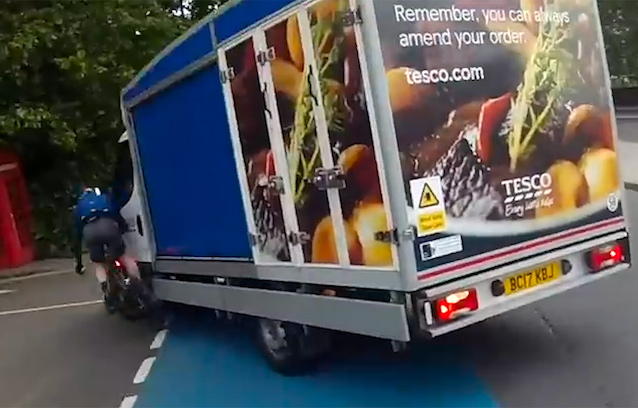 Video footage has emerged of the dramatic moment a London cyclist was knocked off his bike after colliding with a Tesco delivery driver who turned left across a cycle lane.
The video shows a cyclist being overtaken by a delivery can, which subsequently signalled left crossing the cyclist's path.
Just a reminder that a bit of different coloured paint isn't going to protect you from incompetent drivers…

Plan for the worst and remember the road is a shared environment. pic.twitter.com/vpST3fwvOX

— PC Harry Rance (@PCHarryRance) February 12, 2020
The incident happened in May 2019, with the video emerging online this week after the driver appeared at Lavender Hill Magistrates' Court.
He was handed six points, a £300 fine and £332 in costs after he refused to give his details to police.