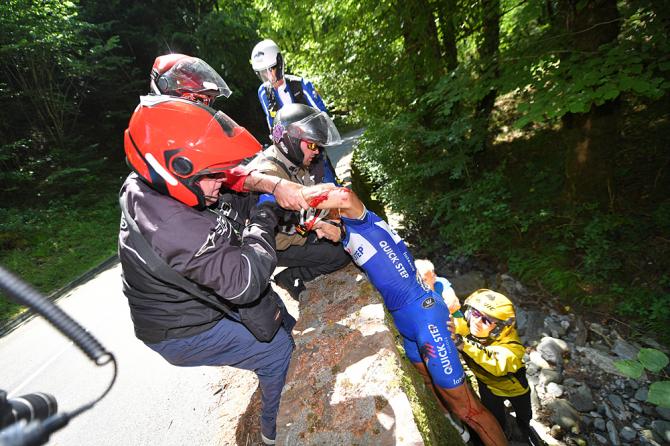 Philippe Gilbert is largely unscathed after a terrifying crash during Stage 16 of the Tour de France.
Gilbert was descending the Col de Portet-d'Aspet and leading the breakaway when he took an aggressive line on a turn. His back wheel began to falter and he lost control of his bike. He couldn't stop, and managed to unclip before his bike crashed into a low stone wall. He went careening headfirst over the handlebars and tumbled into a ravine.
It was a scary moment, especially since that particular pass is where cyclist Fabio Casartelli crashed during the 1995 Tour de France. Casartelli was not wearing a helmet and sustained significant head and face injuries during the crash, and he died in the helicopter on the way to the hospital.
Gilbert didn't sustain any major injuries, which is miraculous considering the speed he was going and how he went over the handlebars of his bike. Gilbert got help climbing back up to the roadway and doctors attended to him immediately. He had a bloody elbow and knee, but was able to get back on his bike and continue the stage.