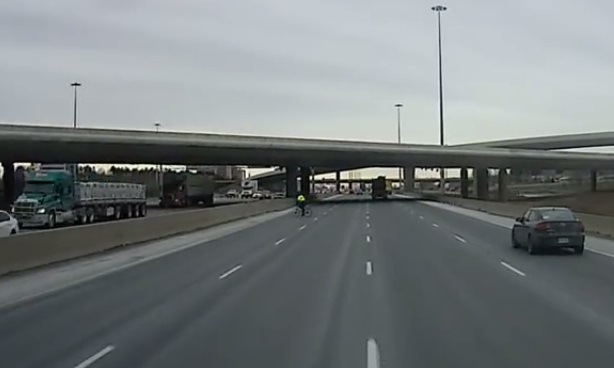 This ride was caught on a driver's dashcam making this crazy scramble across one side of an eight-lane motorway.
Wayne Edward was driving on Hwy. 401, when suddenly, a cyclist heading against traffic swings off the right shoulder and cuts diagonally across four lanes of highway, performing a U-turn before hopping off his bike by the opposite guard rail.
"I saw the black car (beside me) was braking… so I did a quick mirror check to see if I could change lanes to give the black car room to move over," said Edward. "When I looked back that's when I saw the guy darting across the highway."
A fellow truck driver has seen the cyclist cross the highway before and believes he is trying to get to his workplace in the area, he added.
"The cyclist could be charged with (being a) pedestrian or cyclist on the highway and taken off the highway," said Sgt. Kerry Schmidt of the OPP's Highway Safety Division. "It's just unbelievably dangerous … He's probably going to die before he gets charged."