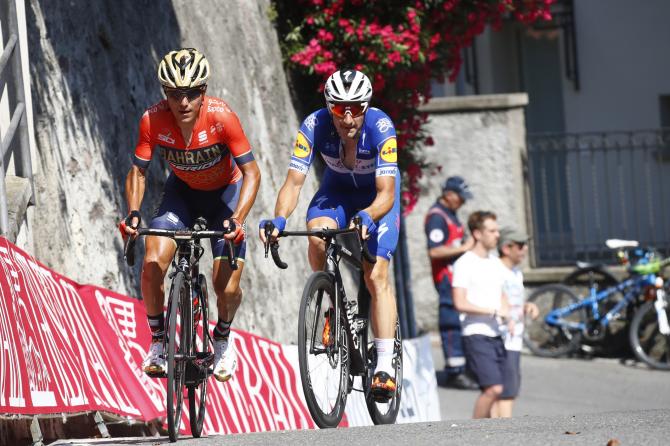 After a tremendous ride, Elia Viviani crowned himself National Champion for the first time in his career, after claiming his 14th victory of the year.
"On the podium I cried because I was overcome with emotion once things started to sink in. I can't wait for my first race with this superb jersey", Viviani said after his brilliant performance.
Lining out at the start of the 233km-long event after a perfect outing at the newly-created Adriatica Ionica race, Viviani counted on three Quick-Step Floors teammates – Eros Capecchi, Davide Martinelli and Fabio Sabatini – who kept the five-man breakaway in check and protected him until the final two laps, when several surges split the peloton on the hilly and fast circuit around Darfo Boario.
As soon as the escapees got caught, eight riders emerged from the peloton and opened a dangerous gap on another group who eventually managed to rejoin them. Among the 16 men in the lead was also Elia Viviani, who didn't wait for the race to follow its natural pattern, but instead decided to shape it with a couple of probing attacks which caught many off guard and thinned out the group.
Inside the last 15 kilometers, Daniel Oss (Bora-hansgrohe) powered away, but the same aggressive Viviani chased him down and kept the status quo, before launching a move of his own, which saw the Quick-Step Floors rider being joined only by Oss and Domenico Pozzovivo (Bahrain-Merida). The trio put some daylight between them and the five chasers, who bridged across only for a short moment, as Pozzovivo accelerated on the 17% gradient of the final climb, taking only Viviani and teammate Giovanni Visconti with him.
Viviani absolutely no chance to his rivals in the reduced sprint, winning the race by a clear margin and roaring across the line in delight after one of his finest ever displays: "I never thought I could win a race like today, on such a hard route. We were only a four-man team but we did all the right moves and I have to thank my teammates for how they rode their hearts out for me today."
"In the final, when I attacked with Oss and Pozzovivo it was the right moment to do that, and when Pozzovivo counterattacked on the hill, opening a short 10-second gap on Visconti, who closed us just at the top, I knew I was in a good position as I just had to take their wheels if they tried to jump. Usually, you don't have more than one or two shots when you reach the final of such a long and demanding race but today I really had the legs to do it. I am so excited for this victory", explained Viviani.