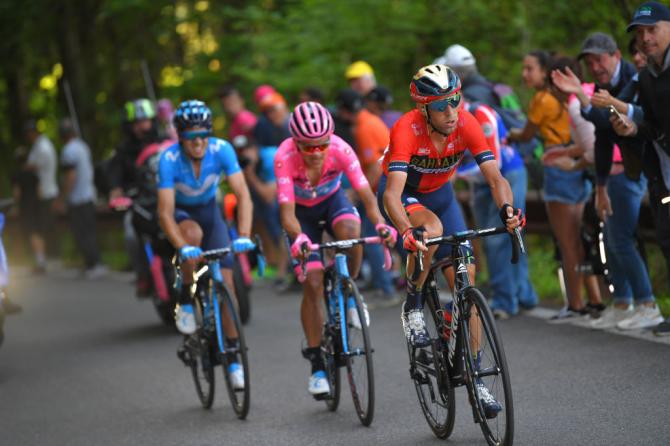 Vincenzo Nibali moved up to second spot in the overall classification of the Giro d'Italia after he attempted several attacks during stage 20.
"I tried to the very end but it was difficult to do much with Carapaz and Landa so strong. The Movistar team was strong too, they had four riders on the front in the finale and there's not much you can do when a team is so strong," Nibali said.
"The last climb was hard and came after a long, hard day out and a hard Giro, so one attack could have made a big difference. I tried something but Carapaz responded and so deserved to keep the maglia rosa."
"Now we'll see what happens in the final time trial. The 17km are tough but I think everyone will feel the efforts of today. The time trial is the last day of fighting. I was hoping to win the Giro but that won't happen now, Carapaz has it 90 per cent won."
"I congratulated Carapaz at the finish because I respect his performance," Nibali said.
"I'm not really disappointed with my Giro. I'm on the podium if everything goes well in the time trial. But I've no real regrets, there's nothing much else I could do.
"I raced as well as I could. It's never easy to win but I tried lots of times, I've no regrets. I'm happy with my Giro, I fought all the way. I made some mistakes but we'll all human, who hasn't made mistakes in life?"