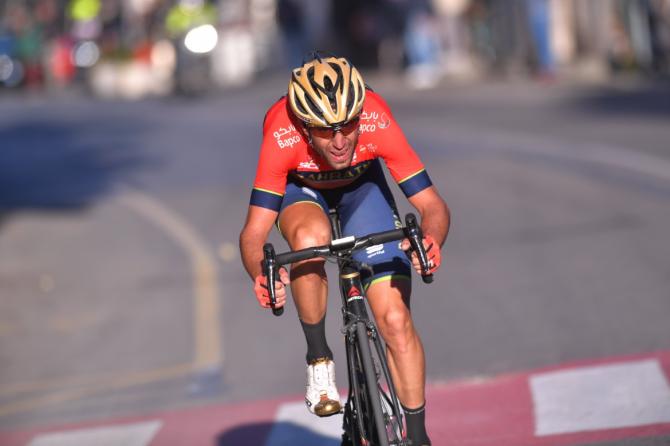 Vincenzo Nibali added a massive triumph to his considerable palmares on Saturday when he claimed the 2018 Milan-San Remo title with a devastating attack on the Poggio.
"We raced really well and then this pearl came out of it all," he said. "I'm still struggling to take it all in. I didn't think really think I'd win this morning. I was cool, calm and collected in the finale".
"When the Latvian champion attacked, I went after him because we were riding for Colbrelli. Then when we had 20 seconds and the Poggio got steeper I decided to go for it alone. I tried to stay strong, go hard and be constant. The last two kilometres seemed never ending but I pushed and pushed, and I made it."
"Milan-San Remo is one of the races I watched a lot as a boy but I'd never really thought I could win it because it was so suited to the sprinters. Now I want to really enjoy this win. I want to watch the race again and really savour it.
"It wasn't on my programme and I was doubtful about riding. I've got to thank my coach Paolo Slongo who reminded me that it's always such an unpredictable race. I felt I was getting stronger and stronger at Tirreno-Adriatico and so I started to think about Milan-San Remo in the final days of the race.
"We had two key points in the race where it was up to me to move: on the Cipressa if five or six riders got away, I had to go with them and be passive. Then the Poggio was the most dangerous point because there could have been attacks from Kwiatkowski and Sagan. I was there waiting and watching. I just waited for someone to go and then went for it myself."
"I know that if I win Milan-San Remo, I have to win alone. If I was with Alaphilippe, Kwiatkowski or Gilbert, I know I'd be beaten. In the finale, I was focused on making the right decision. I knew I had to go for it alone, it was the right thing to do. It was an attack which came from my head but also my heart. I knew I had to take my chance. It worked out."