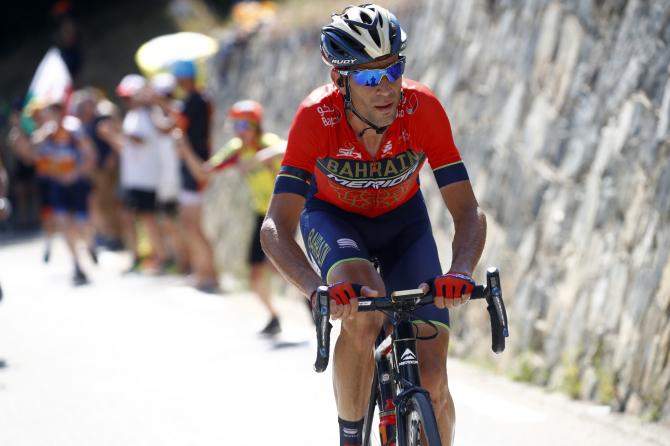 Vincenzo Nibali (Bahrain-Merida) has been forced to quit the Tour de France with a vertebrae fracture. 
The Italian fell with 3.8 kilometers remaining in the Alpe d'Huez stage after a motorcycle crashed against him as the favourites' group was passing through a sea of fans.
"The scan has confirmed what we feared," Bahrain-Merida team doctor Emilio Magni said. "There's a fracture of the T10 vertebra. It's a non-displaced fracture but it's clear Vincenzo can't ride his bike again for at least 15 days."
Nibali was whisked away to Grenoble hospital for further scans on his back. Immediately after the stage, Nibali gave his own appraisal of how he felt after the incident.
"I took a blow and I was a bit winded too when I tried to get up and go again," said Nibali. "Right now, I don't feel very well able to move on my feet. I hope it isn't something more serious, but we'll see in the coming hours."
"Well, I was going well, I really believed in it," said Nibali. My legs were turning well, I had good sensations," said Nibali. "The first attack I made was only to see if someone would respond, but my idea was to make the real attack in the finale."