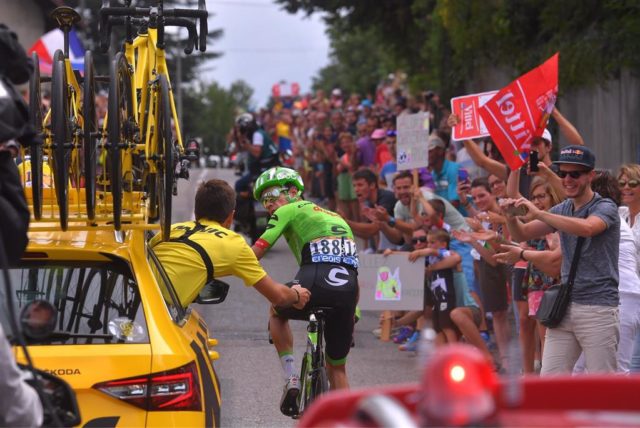 Rigoberto Uran won a crash-filled stage of the Tour de France in dramatic fashion on Sunday.
The Colombian, riding with only two gears due to a late race mechanical issue, won a six-up sprint in Chambéry.
"When there was the crash of Richie Porte and Dan Martin, Martin hit my gear and broke it," Uran added. "I did the whole descent with a broken gear, and I was thinking that I had to find a way to save the day."
Uran's derailleur hanger was bent, and his shifting was broken when he paid a visit to the Mavic neutral support car where Mavic mechanic put the chain in the biggest gear, the 11-tooth.
"When we knew we had the problem with the rear derailleur, first we made the decision to go to the line with the bike like that," said head sport director Charly Wegelius. "He could have stopped within the last three kilometres and changed his bike and gotten the same time, but we wanted to win. Without the ability to change gears, he needed a long sprint," Wegelius added. "We told him to go for a long one. We gave him the information about where to be. He did great."
"Any race is full of emotion," said Slipstream Sports CEO Jonathan Vaughters. "This one, you know, I was pumped as hell when I saw Rigo going over the top with the first few guys, and when he almost crashed, almost had his derailleur ripped off, I thought: 'Shit. The black cat strikes again.' But the difference between Rigo and pretty much every other bike racer I've ever met in my life is Rigo never loses his cool," said Vaughters. "And that's why he won today. Even though he had this major mechanical, he never lost his cool for one second. I was nervous. He wasn't. And that was all the difference in the end."