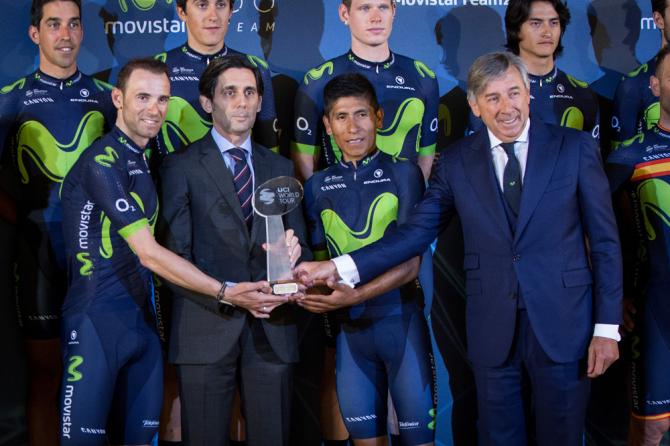 Eusebio Unzué's squad, winners of the UCI WorldTour team ranking for the last four seasons in a row, will seek again for a top spot in the Tour de France.
Nairo Quintana is scheduled to race both Giro d'Italia and Tour de France for the first time in his career.
"Let's start by saying that we are not doing things just for the sake of it. We have technical data that gives us confidence that, if he completes the Giro d'Italia in good fashion, he will tackle the Tour de France in perfect shape," Movistar Team's manager Eusebio Unzue declared at the team presentation.
"In four of the seven Tour victories that I could enjoy so far, three times the rider in question, Indurain and Delgado, had first rode the Giro.", added Unzue.
"In between are 33 days: enough time to recover to the fullest. And then Nairo stopped racing on September 11, 2016, when he won the Vuelta. Between that date and the start of the Tour there are nine and a half months in which will have accumulated 40 days competition: Nairo's body will have enough freshness to recover the fitness necessary to have a great Tour."
Nairo Quintana's racing schedule until the Giro includes the Volta a la Comunitat Valenciana (February 1-5), the Abu Dhabi Tour (February 23-26), Tirreno-Adriatico (March 8-14), an altitude training camp in Colombia and then the Vuelta a Asturias (Abril 29th to May 1st).
"Last year I performed at a pretty similar level in both Tour and Vuelta, so I know I can get through two straight Grand Tours and be a contender in both.", said Quintana. "The Tour is my unfinished business and my unfulfilled dream", he said before stressing: "I have to win it."