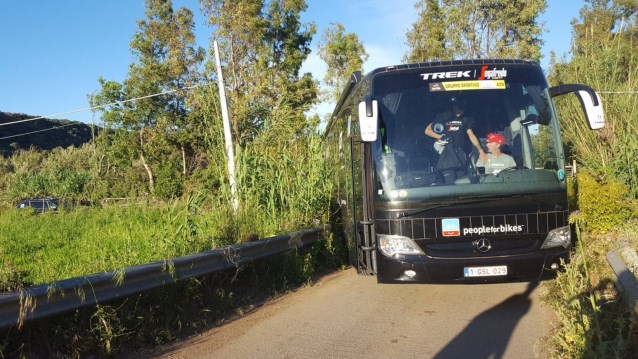 Being the bus driver for a professional cycling team could be a great job, but you only ever make the headlines when something goes wrong.
Remember when the Orica-GreenEdge bus got stuck under the finish banner on stage one of the 2013 Tour de France? Then there was a Roompot-Oranje Peloton bus that reversed into a building at Ghent-Wevelgem in 2015.
So you can imagine the driver's embarrassment Saturday when the Trek-Segafredo bus got very firmly stuck on its way to the hotel after the finish of the second stage of the Giro.
The Trek-Segafredo bus driver explained: "The farther we went on the road, the narrower the road became. The big surprise came with a nasty corner. I tried a few times, but there was no way of coming through."
The hotel was still more than 1km up the road, and the sight of an immovable WorldTour team bus soon drew a crowd, and most of the inhabitants of a local village of Bari Sardo turned up to check out what the commotion was all about.
"I had to go backwards for about 1km," the bus driver said. "But if I would have had to go through the switchbacks backwards, I would be there forever."
"I've been driving a bus for 10 years, and this is the first time I could not move anymore. The biggest nightmare would be if it were on the way to the start and we were blocked in. It was an experience … one I hope not to repeat!"