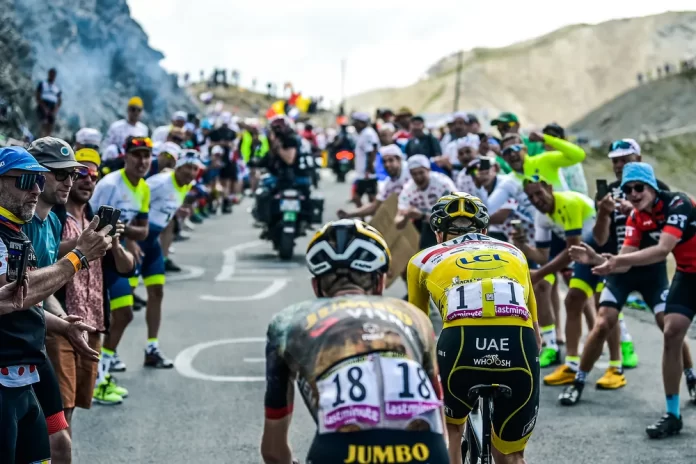 Cycling is the most beautiful sport in the world and if you felt entertained by the Tour de France 2022 stage 11, much more drama is still expected, starting from stage 12 on the 14th July.
There are no words strong enough to describe the emotions we all went through in what will now be referred to as the 'Col du Granon 2022'. In case you missed the action or want to watch it again, you can find every single minute of the Tour de France 2022 on our site here. You can also check out our detailed report of the Tour de France 2022 Stage 11.
What do we take into the Tour de France 2022 – Stage 12?
Tadej Pogacar is still not fully human. He may have been beaten and lost his Maillot Jaune but the circumstances and the way he fought has to be taken into account. In hindsight, it can be suggested that Pogacar could have saved some of the energy he lacked in the finale by not responding to Roglic's attack, instead focusing solely on Vingegaard. Allowing Roglic to get back to him and having to handle both of the Jumbo-Visma main men for the rest of the Tour would however be a worse situation that the one he currently is in.
| | | | |
| --- | --- | --- | --- |
| Rank | Rider | Team | Gap |
| 1 | Jonas VINGEGAARD | JUMBO – VISMA | 41h 29′ 59" |
| 2 | Romain BARDET | TEAM DSM | + 00h 02′ 16" |
| 3 | Tadej POGAČAR | UAE TEAM EMIRATES | + 00h 02′ 22" |
| 4 | Geraint THOMAS | INEOS GRENADIERS | + 00h 02′ 26" |
| 5 | Nairo QUINTANA | TEAM ARKEA – SAMSIC | + 00h 02′ 37" |
| 6 | Adam YATES | INEOS GRENADIERS | + 00h 03′ 06" |
| 7 | David GAUDU | GROUPAMA – FDJ | + 00h 03′ 13" |
Yes, we are in 2022 and Romain Bardet, Geraint Thomas and Nairo Quintana are very much in contention.
1

Si

mon

GESCHKE 

COFIDIS

43 PTS

2

Pierre LATOUR 

TOTALENERGIES

35 PTS

3

Jonas VINGEGAARD

JUMBO – VISMA

30 PTS

4

 Warren BARGUIL

TEAM ARKEA – SAMSIC

30 PTS
Unlike the green jersey, everything is still in play for the mythical Maillot A Pois.
The Tour de France 2022 Stage 12 preview
While many consider Stage 18 to be the Queen Stage of this Tour, Tadej Pogacar has personally claimed the Bastille Day's stage as his queen. French riders and French teams are always over motivated on this national holiday and are acclaimed and pushed over their limits by the exuberant fans on the roads.
Yes, the organizers of this year's Tour de France have completely outdone themselves again. On this year's   quatorze (14) Juillet, we will be treated with three of the most mythical climbs in history of cycling: Le Col du Galibier, Le Col De La Croix de Fer and L'Alpe D'huez. 3 Hors Categories climb condensed in 165km.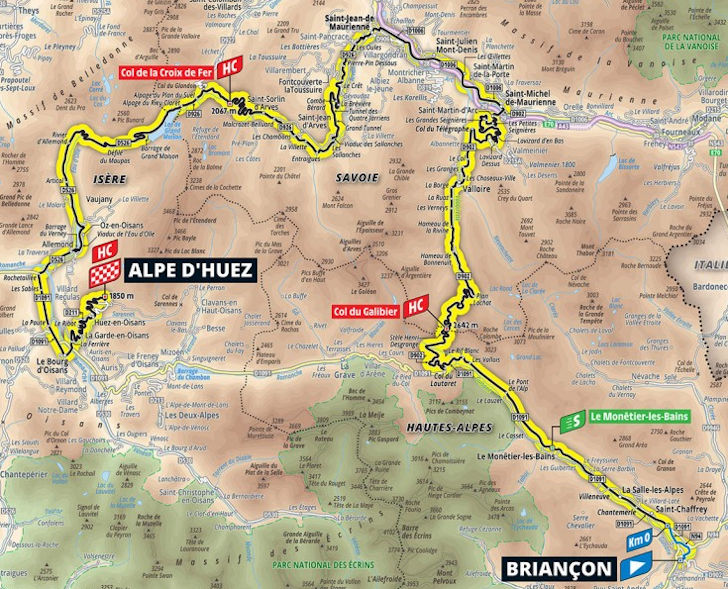 The Col du Galibier – HC -23 km at 5.1 %
The peloton will visit the Galibier for the second consecutive day, except for this time they will be using a much gentler side of the climb. The race to finish within the delay starts here for the sprinters and for those who have been feeling sick recently. On the other hand, pure climbers with the strict ambition of stage win will be attacking in order to form the day's breakaway.
Joining force with them will be KOM contenders; Simon Geschke, Pierre Latour and Warren Barguil. For everyone else, it will just be about forming the Grupetto and making it with in the delay to have a go at the next 3 easier stages. As revengeful as he is, it will be suicidal for Tadej Pogacar to take on a solid Jumbo-Visma and attacks from that early.
Le Col De La Croix de Fer – HC – 29.1 km at 5.2 %
Le Col De La Croix is a very atypical climb. The first half of the climb contains the hardest percentage as well as a 2 km descent and 5 km plateau. After which, it is a 12 km effort with a gradually increasing slope not exceeding 8.3%. The riders in the break away aiming for the stage win are expected to use whichever teammates they have with them, to try put others in difficulty and to keep the peloton at bay.
Down in the already diminished peloton, Jumbo-Visma is expected to use whatever is left from Nathan Van Hooijdonk and Christophe Laporte before putting Wout Van Aert and Tiej Benoot to work. The goal of which would be to set a pace high enough to deter any attacks and to isolate as many contenders as possible from their team-mates.
Riders aiming for the KOM jersey will need to compromise their chances of stage win , to make an effort in order to maximise their KOM points.
Alpe D'Huez – HC 13.8 km at 8.2 %
L'Alpe D'Huez and its 21 hairpin turns is the most famous climb of the Tour de France. It has been the site of of the most mythical performances and wins. The Tour de France 2022 visits the climb with another big chapter expected to be written down on La Bastille Day.
The stage victory will depend more on the front riders' energy level, form and climbing abilites rather than  the time gap. With a rather pleasant final 2km at 1700m altitude, the damage needs to already be done before. As such, Tadej Pogacar will definitely be trying to get rid of each of Jonas Vingegaard team mates before taking on the Maillot Jaune by constantly attacking and giving his all in the first 10km of the final climb.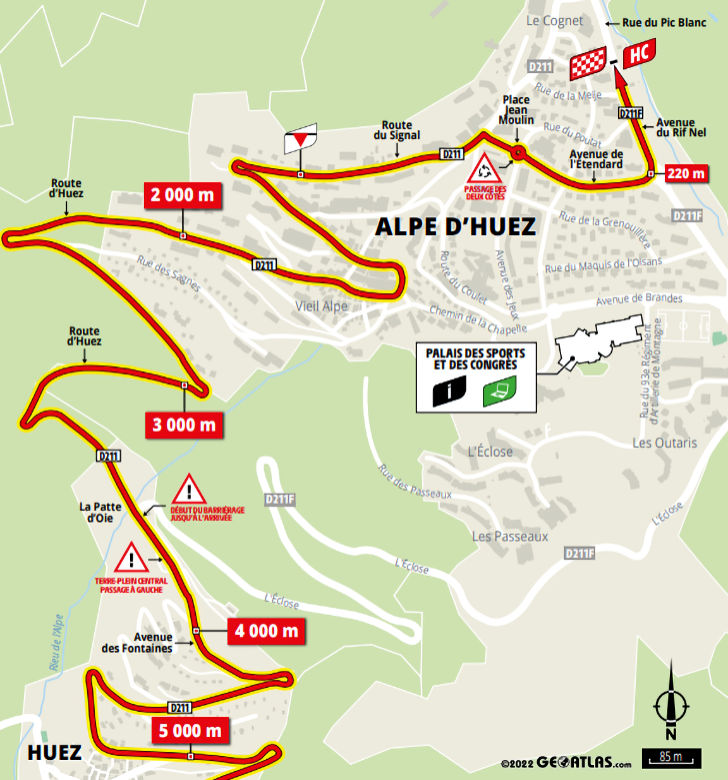 The final bend comes just before the Flamme Rouge, where the eventual winner will need to solo to the line in an effort that is very often accompanied by a head wind.
Stage 12 predictions
★☆☆☆☆ Guilio Ciccone
The Italian has been under the weather since the start of the Tour. He would normally be one of the favourite for the day but his fortune might turn
★☆☆☆☆ Frank Bonamour
The revelation of last year's tour has not really shown up this year. The public of the 14th July might precipitate a sudden return to form though.
★★☆☆☆ Dani Martinez
He has been looking impressive since the start of year, however his form suddenly dropped at the Tour De Suisse. Being of no danger to the overall, he might have a card to play here, unless Gerraint Thomas needs him.
★★☆☆☆ Lennard Kamna
After a brief stint as the dauphin to the Maillot Jaune, the German will be back to what he is best at: stage hunting. With a good break away group and some team-mates to help, he has a real chance of putting all of his recent deceptions behind.
★★★☆☆ Romain Bardet
How good are the Frenchman with no pressure on them? Romain Bardet has been flying this season. He is the instigator of the collapse of Pogacar on the Col du Granon for a fit Pogacar would have followed his attack. Sitting on the second place of the general classifications, he will not be allowed to go away by Team Jumbo Visma and that really compromises his chance of a stage win, something that his current form would assure him of.
★★★☆☆ Tadej Pogacar
He will be trying to turn this stage upside down on his own. It is however not easy to go away from a Maillot Jaune who has Primoz Roglic as a dedicated Lieutenant!
★★★★☆ Jonas Vingegaard
His attack and him bridging a gap to the leader of the race and then putting in 3 minutes to Pogacar was out of this world. His team will bring him to the final of the stage safely, where he will attack and will most probably fly solo.
★★★★☆ Nairo Quintana
This season, he has shown some form we have not seen from him for years. He will definitely attack on the early slope of L'Alpe D'Huez and force a reasonable distance between him and the main group.  Just like on Stage 11, his stage win will depends on the gap to the front rider, that he will first have to bridge and by the amount of space he managed to put between him and Vingegaard.
★★★★★ Thibaut Pinot
The Tour de France 2022's Bastille day stage has been designed to confirm the resurrections of Monsieur Thibaut Pinot. It has been scripted as this: Thibaut Pinot will be part of the day break-away along with a team mates or two. He will be protected until the final climb, when he will launch his attack and bridge over any rider infront of him and resist the comeback of the main GC riders to seal a victory that he deserves so much. Vive La France! Vive Thibaut!
Exclusively for this Bastille Day Race, we have some of our most knowledgeable contributors on Cycling Today who gave us their predictions and some expert opinions by the very wise Mark Miwurdz.
Contributors
★
★★
★★★
★★★★
★★★★★

TeoGoals

Primoz

Roglic

Alexandr Vlasov

Geraint Thomas

Jonas Vingegaard

Tadej Pogacar

CTT

Adam Yates

Geraint Thomas

Romain Bardet

Jonas Vingegaard

Tadej Pogacar

Gsipp00

Romain Bardet

Nairo Quitana

Jonas Vingegaard

Tadej Pogacar

Adam Yates

MarkMiwurdz

Primoz Roglic

Jonas Vingegaard

Romain Bardet

Tadej Pogacar

David Gaudu

Mufcfaan

Romain Bardet

Tadej Pogacar

Nairo Quintana

Jonas Vingegaard

Thibaut Pinot

Vintage

Sprockets

Geraint Thomas

Adam

Yates

Nairo Quintana

Tadej Pogacar

Jonas Vingegaard

 
MarkMiwurdz opinion:
The French love a winner on July 14th. Over the years Barguil, Moncoutie, Virenque, Brochard and Jaja (twice) have intensified the celebrations. Barguil is still there but may be exhausted from yesterday's exploits.
Prior to the Criterium du Dauphine, David Gaudu said he was at 90% for the Mercan'Tour Classic Alpes – Maritimes and finished a good 3rd. He said he was at 97% for the Dauphine and won a good stage into Chastreix-Sancy with the likes of Roglic, O Connor and Caruso in his wake. He hoped to be 100% for the Tour de France 2022 and there is nothing to indicate he is not.
★★★★★ David Gaudu to shade it among the GC leaders today.
★★★★ Tadej Pogacar, guaranteed to be there or thereabouts after the disappointment of yesterday.
★★★ Romain Bardet, has looked at ease in the mountains thus far and could put a second French man on the Bastille Day podium
★★ Jonas Vingegaard Yesterday's hero returns to defend his yellow
★ Primoz Roglic, the climb back up the GC starts here.
Make sure to tune it at 1:20pm Central Europe, 07:20am U.S. Eastern on cycling.today or cyclingstream.com to watch the race free and live with us!
An exclusive post for Cycling today by A LeadOut