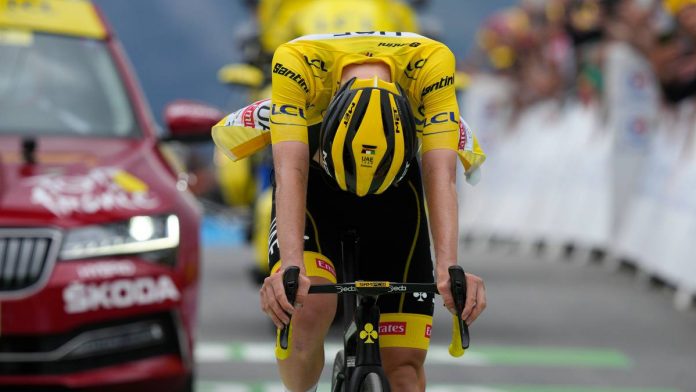 The first big mountain stage shook things up at the Tour de France as defending champion Tadej Pogacar wilted toward the end of Wednesday's 11th stage and lost the yellow jersey.
"It's not over yet. I lose today three minutes, maybe tomorrow I gain three minutes. I'll keep fighting until the end," Pogacar said. "I was suffering until the end. It was not the best day. We'll see tomorrow if I can do better.
"I want to race until the end – I want to give it everything and to have no regrets."
Vingegaard relentlessly attacked Pogacar in the thin air. But every time they tried to isolate the Slovenian on the Galibier, the UAE rider responded calmly.
Pogacar even smiled at TV cameras at the foot of the punishing final climb. Guided by teammate Rafal Majka, Pogacar rode at the front of the main contenders' group but the Jumbo-Visma riders' attrition work finally paid off.
"On Galibier I still felt really good. I got a lot of attacking from Jumbo, they were really good today," Pogacar said. "Then on the last climb, I don't know, I didn't have a good final day.
"They played it really smart," he said of Jumbo-Visma. "For us it's really hard to control who goes in the breakaway because we are not many guys anymore."
"We tried, but in the end Van Aert and Laporte were in the front and played it tactically today they did a good job. That was it."