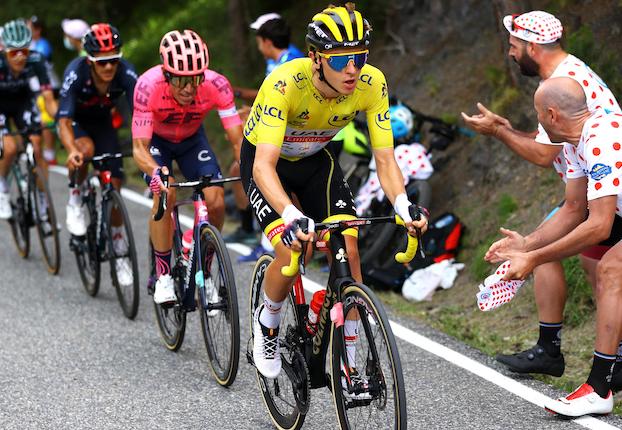 The world's favourite road cycling race, the Tour de France, is scheduled to return for its 109th edition in July with Copenhagen, Denmark confirmed as the starting stage. As always, there will be 21 stages in total with just three rest days in between them, a gruelling test of endurance, stamina and determination. Last year's race was won by Slovenian rider Tadej Pogacar who managed to retain his title having also won in 2020. Pogacar and his team, UAE Team Emirates will be confident he can make an impact again and the bookies certainly agree. According to oddschecker, whose free bets page includes several offers that can be used for Le Tour, Pogacar is this year's favourite, ahead of Jonas Vingegard and Richard Carapaz. These four will be joined on the starting line by over 100 others and they will all be dreaming of leading their team to victory.
History
The Tour de France is the oldest of the three "Grand Tours", which also includes the Giro d'Italia and the Vuelta a España events that were both inspired by "Le Tour".  The first edition was held in 1903, apparently with the purpose of helping promote the newspaper L'Auto (now L'Équipe), which was struggling with low sales. The race was hugely successful in this sense as it increased the newspaper's sales by over 500%.
It was reported that 60 professional or semi-professional cyclists were at the start line in Paris, one Italian, two Germans, 4 Swiss and 4 Belgians, with the remaining 49 being French riders. Only 21 of those competitors completed all six stages of the race, which ended with a 471-kilometre flat ride from Nantes to Paris. The race was won by adopted Frenchman Maurice Garin who finished nearly three hours before second-placed Lucien Pothier. The final podium place was taken by Fernand Augereau who pipped Rodolfo Muller by just over 10 minutes. All of the first five finishers were part of team "La Francaise", although they were not permitted to work together in the race.
Since then, the race has undergone numerous changes with extra stages added, rule changes and an increase in the number of competitors. All of these factors have helped the Tour de France become the biggest event in cycling.
Record winners
There are four men who hold the record for Tour de France wins with five each. The first to achieve this feat was Jacques Anquetil, a French cyclist who won in 1957, 1961, 1962, 1963 and 1964. His first win came in his tournament debut, a year prior to this he broke the hour record with over 46 kilometres in the Velodromo Vigorelli in Milan.
Anquetil's record stood for only 10 years until it was matched by Eddy Merckx, who won four back-to-back titles from 1969 to 1972 before adding his fifth win two years later. He won a total of 11 Grand Tours over the course of his career, which also included five Giros d'Italia and one Vuelta a España title.
Bernard Hinault was the next cyclist to achieve the feat with wins in 1978, 1979, 1981, 1982 and 1985. The Frenchman is remembered as one of the best cyclists in the history of the sport with almost 150 wins, including three Giros d'Italia and two Vueltas a España, as well as a 1980 World Championship win in Sallanches.
The most recent competitor to match Jacques Anquetil's record was Spanish All-rounder Miguel Induráin who became the only man in history to win all five titles in consecutive years. His Tour de France wins from 1991 to 1995 were the highlights of an impressive career that also included Giro d'Italia wins in 1992 and 1993.
Stages
The 2021 Tour de France was scheduled to kick off in this year's location but had to be pushed back to this year due to postponed Euro 2020 matches being played in Copenhagen at the same time. The Danish city will host the individual time trial portion of the race, before the flat stage from Roskilde on the island of Zealand to Nyborg. The Danish stage concludes with a second flat stage from Veijle to Sønderborg before a well-deserved rest day.
The second set of stages begin with a hilly stage from Dunkirk to Calais, followed by a Lille to Arenberg stage the following day. The sixth stage is an epic 220-kilometre ride beginning in the Belgian town of Binche and ending back in France in Longwy. Stages 8 and 9 take competitors to Switzerland and back to France again, followed by another day off for the cyclists.
Stages 10 to 15 will take the race from the mountains of Morzine to the walled city of Carcassonne with two tough mountain stages of 149 and 166 kilometres respectively.
The final set of stages culminates with a 112km of flat surface from Paris La Defense Arena to the Champs-Elysees. The day before the 21st and final stage there is another individual time trial stage to determine the starting order for the last day.
Riders to watch
Last year's three podium finishers are believed to be the competitors to watch at this year's Tour de France. Reigning champion Tadej Pogacar is most people's favourite after last year's dominant performance. At just 23 years old, many feel that he has a long way to go before completely fulfilling his potential, which is a scary prospect for his rivals.
2021 runner up Vingegaard Rasmussen is a Danish all-rounder who is being tipped to make a big impact again this year. He is another young competitor at 25 years old, so he is another who can reasonably be expected to improve this year. He won this year's La Drome Classic and came second in the Tirreno-Adriatico. With this year's Tour de France starting in his home nation, he'll certainly have extra motivation to aid him in his quest for glory.
Ecuador's Richard Carapaz came third last year despite his teammates crashing in the first week, which meant they weren't able to help him as much as other competitors' teammates. He is an especially talented climber who thrives in the mountainous stages of Grand Tours. He won the Giro d'Italia in 2019 before proudly winning an Olympic gold medal at the 2020 Olympic Games in Tokyo.