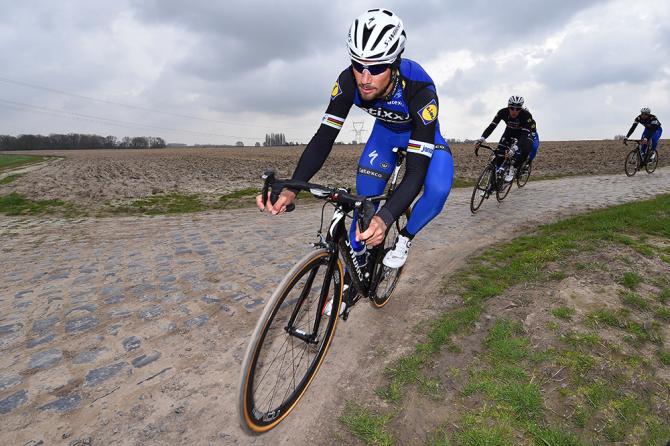 The UCI allowed teams to test disc brakes the past two years in a small number of pro races, however cycling's governing body pulled the plug on the trials after Francisco Ventoso suffered a severe laceration following a nasty crash during Paris-Roubaix.
An investigation commissioned by the World Federation of the Sporting Goods Industry concluded the bike's chainring was most likely the cause of the injury. Either way, disc brakes are back on the menu in 2017 with one caveat: the rotors must be manufactured with a chamfered (or blunt) edge to help prevent injury should the disc make contact with a rider's skin during a crash.
Specialized unveiled the Venge ViAS Disc earlier this year as one of the first fully-fledged, disc-equipped aero road bikes. It's lighter than the regular Venge ViAS, and Specialized say it's just as aerodynamic.
The off-season has given teams and riders the chance to test the disc-equipped bikes, away from the heat of the race-day peloton, and Boonen's preference looks to be firmly with the Venge ViAS Disc.
"It's the biggest improvement I've seen in my career on bikes, so it would be stupid not to use it," the Belgian told Cyclingnews ."I had a Tarmac with discs at home last year and trained on it a lot, still with quick release, then I had the new Roubaix with the thru-axles, then at training camp in December I was for the first time on the Venge – the real race bike – and I decided to go for it,".
"They work better, they're easier to control, they lock out less fast than normal brakes. Of course I can control normal brakes but with disc brakes you have so much more feeling. It's the biggest improvement I've seen in my career – I don't know what all the hassle is about."
The benefit of disc-fitted road bikes for the classics is understandable considering the presence of superior stopping power under wet, muddy conditions, increased control and wider clearance to better accommodate pavé-friendly tires.