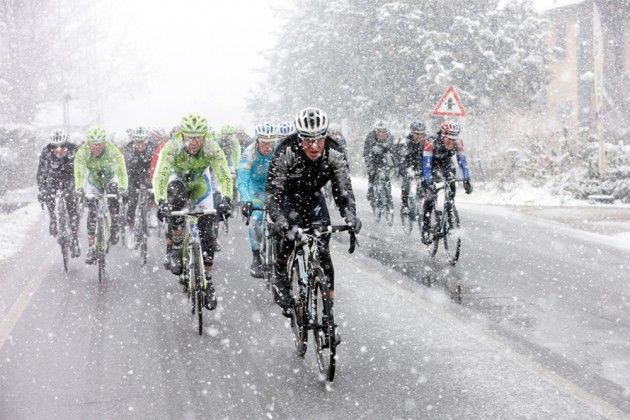 When you see photos of the pros doing it tough in those spring classic conditions, they don't look the way they look just to be cool – there's a reason for everything. Dress properly and you'll be comfortable for the entire ride. There's nothing worse than stressing about how cold or warm you are during a race.
UPPER BODY
Wear a cap under your helmet. It doesn't need to be fancy. Just a regular cap will do the trick. It will keep your head warm and will let the rain drop off the brim of the cap instead of into your face. It also gives your eyes something to hide behind when water is being sprayed into your face from the wheel in front.
Base layer. The key to an effective winter clothing ensemble is layers. Air is trapped between each layer of clothing, helping to keep you warm, while you can add and remove layers to regulate body temperature.
Experience counts for a lot when selecting the number of layers suitable for the day's weather conditions and some people feel the cold more than others, so get out on your bike and try different clothing combinations to find what works for you.
It all starts with the base layer. A long sleeve base layer is preferable in winter, and merino wool is particularly effective as it's warm, soft next to the skin, retains heat when it's wet and is odour resistant.
Arm Warmers. I prefer to use arm warmers rather than a long sleeve jersey so that I have the option of taking them off if I get too warm. They also have a tighter fit which I find holds the warmth in better – even if wet.
Vest. A good vest is just as important as a good base layer. It's an excellent choice to bring in questionable weather conditions because you can unzip it if you get too hot, or take it off all together. It's such a compact piece of clothing and unless is very hot out I'll almost always bring a vest with me.
Rain jacket. Personally I find that almost any rain jacket is too muggy and warm when racing. What I like to use is a rain vest. It will keep your torso relatively dry but won't make you sweat. There's nothing worse than overheating in a plastic bag.
Gloves. How warm is warm enough? Riders who suffer from poor circulation will need to pay particular attention to their extremities (hand and feet), and if your gloves are too tight this will also cut off circulation, so make sure they fit properly.
Generally speaking, gloves fall into three bands. A lightweight glove is ideal for dry autumn and spring rides, and mild winter days. Next up, a fully windproof glove provides more protection against winter temperatures, ideal for cold and dry days, and for riding in light rain as most will have an element of water resistance.
For riding in proper rain, however, a waterproof glove is essential as once your gloves are sodden, there's little chance of avoiding cold hands for the rest of your ride. Truly waterproof gloves are in short supply but many advertised as such will keep your hands dry unless riding in prolonged, heavy rain.
LOWER BODY
Bib tights. When buying bib tights, the same principles apply as when buying bib shorts in the summer. Fit is perhaps even more important than usual, as the additional material of a tight can pull the chamois away from where it's meant to be. Some tights have foot loops and/or ankle zips – some riders swear by them, some hate them, so see what works best for you.
For really cold temperatures, consider tights that don't have a chamois. Padless tights allow you to wear your favourite pair of shorts underneath, bringing with it additional warmth and comfort.
Chamois Cream. It's a absolute must when riding long distances, especially in the rain. It'll keep you from getting saddle soars and chaffing. You can buy some name brand chamois cream which is good, but a cheaper option that does the trick is Bepanthen nappy rash creme.
Shoe Covers. A set of thin neoprene shoe covers won't keep your feet dry, but will keep them warm from the wind. There's nothing worse that having numb feet.
Socks. A set of medium thickness merino socks are great to keep your comfortable in cold weather.
Embrocation. Belgian knee warmers as it's called. It provides warmth for the legs and keeps the blood circulating and the muscles as supple as possible. It doesn't actually keep you warm – it just redirects blood flow to the areas where it is applied. When it's really cold, put a thick coat of Vaseline over your legs as well. It's a bloody mess, but will hold the heat in and repel the water.
The key to dressing comfortably is by taking care of your core and your extremities. If it's raining out, you're not going to stay dry. There's no use fighting it. The trick is to hold your body heat in while not overheating. I find that when I'm standing at the start line I'll be freezing cold. This is okay because it'll only take 10 minutes to warm up. It takes a bit of experimenting to figure out how your own body needs to dress, but once you do you can focus on the ride or race instead of how uncomfortable you are.