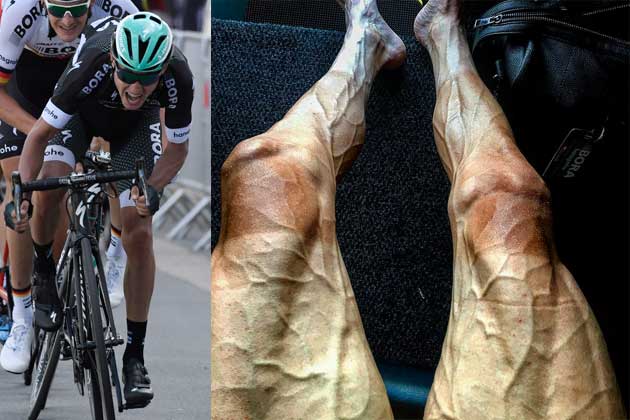 Pawel Poljanski's legs have highlighted the gruelling nature of the race, after he posted a picture showing extremely prominent veins stretching from his feet and all the way up his legs.
The Polish rider took the snap shortly after finishing the 16th stage of the Tour de France, sparking shocked reactions across social media.
Prominent veins are normal among racers who compete for long distances, as surface veins dilate after exertion as they carry blood back up to the heart. This causes the veins to fill with blood and protrude once the exertion stops and a person stands up.
"These prominent veins are due to a combination of low body fat and significant increase in blood that flows through the legs of high level cyclists," says Debabrata  Mukherjee, chief of cardiovascular medicine at Texas Tech University Health Sciences Center.
"High level cyclists also have double the blood flow to their legs compared to recreational exercisers. That contributes to bulging prominent veins," says Mukherjee.
"Since it reflects lower subcutaneous fat and higher blood volume, the harder a cyclist trains the more prominent the veins will become," he says. "It is something that may tell an athlete that he/she is getting to a higher level of performance."
When he took the photo, Poljanski had just ridden the punishing 165km from Le Puy-en-Velay to Romans-sur-Isère in blustery conditions. His leg muscles had been screaming for blood for hours.
Should you aim to create your own vascular network to share on your social network? Not really. Prominent veins are not particularly beneficial, and like diamond carved calves and second knee cap quads, not every rider is genetically wired to achieve the same aesthetic.