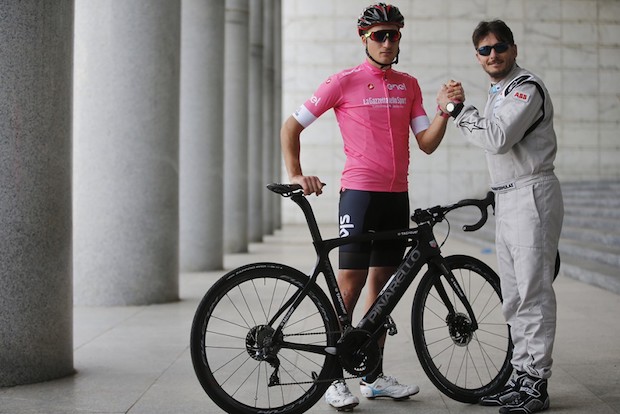 Today in Rome, where the winner of the 2018 Giro d'Italia will be crowned on the Imperial Forums in front of the Colosseum on Sunday 27 May, a new Giro has been born: the Giro E.
The new challenge was announced to the world with the presence of Team Sky's Gianni Moscon, and former Formula 1 driver, Giancarlo Fisichella. Giro E will use the first ever e-bikes designed by Pinarello and will start on the first Italian Stage of this year's Giro d'Italia on May 8 in Catania.
As part of the launch, Moscon and Fisichella raced around the city's Formula E circuit: the first on Pinarello's new e-road bike, the Nytro, then second in an electric racing car.
Giro E will follow the same calendar of the Giro d'Italia's 18 Italian stages. Each day, it will see five teams – made of two riders each – ride on the very same roads upon which the WorldTour riders will race just a few hours later.