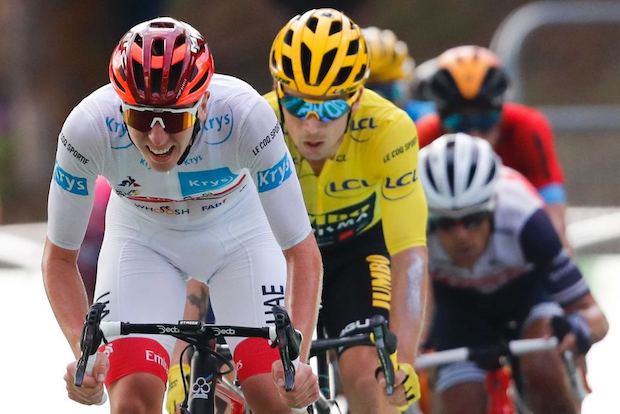 Tadej Pogacar says he will keep on fighting for the yellow jersey depsite losing few seconds to Primoz Roglic on the queen stage of the 2020 Tour de France.
The young Slovenian started the 17th stage in the second position of the overall standings, 40 seconds behind his fellow countryman, but he lost 17 seconds and now sits 57 seconds behind him.
"I lost a few seconds on what was a really hard climb. I gave my best, the team gave their best and we got third place on the day to show for it. The Tour is still not over and anything can happen," he told reporters.
"I can win or I can lose the podium. We'll try. Let's go with the flow and we'll see tomorrow and try our best."
"I'm happy with my performance, it was a really tough day. Bahrain did a really fast tempo on the Madeleine and on Col de la Loze the race just exploded in the final few kilometres," Pogacar said.
"Those  steep sections then flat sections, that was really hard for me today. Also it was at altitude – one of the hardest finals I've ever done. In that hard finale I'm happy to not lose more time.We'll see what we can do but I think we can be happy with how we rode so far. We will fight to the end."