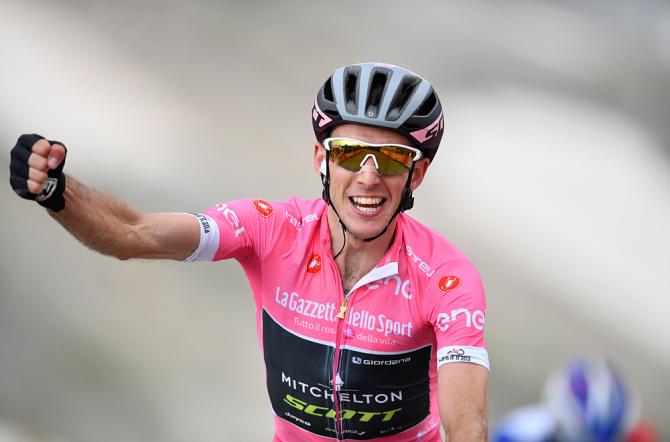 Twelve months on from a spectacular performance that saw them win five stages and wear the maglia rosa for 13 stages, Mitchelton-SCOTT and Simon Yates are eyeing the biggest prize when the 2019 Giro d'Italia kicks off on Saturday.
Yates, who has since bagged his first Grand Tour victory at the Vuelta a Espana, returns with more confidence and more learnings as he aims for back-to-back three-week race success.
The 26-year-old will be surrounded by an experienced outfit, including the likes of powerhouses Jack Bauer, Luke Durbridge and Chris Juul-Jensen to guide him through the first and flatter half of racing, before Brent Bookwalter, Lucas Hamilton, Mikel Nieve and Esteban Chaves take over as a formidable force in the mountains.
"I wanted to go back to the Giro, that's what's driving me at the moment, and that's what I have the passion to get out of bed for every morning", said Yates.
"I'm approaching the Giro the same way I would do any other race. I am, more or less, always in a leadership role within the team and I really like to try to win every race I start, so for me it's just business as usual.
"There are many strong rivals, it's a very packed field. I wouldn't really like to single out anyone, I think they are all very strong and a lot of them have already won week-long races this year.
"In a way I have unfinished business at the Giro, but I would just like to have another go. We were so close last year so I'm motivated to give it another go and I'm trying to arrive in the best shape possible to try and do that.
"We start directly with a prologue, so we will know how everyone's form is there. If I can race aggressively, like I would do normally, that's how I would like to race because that's what I enjoy but we'll have to see once we get there.
"I like to race aggressively but you can't always do that unfortunately and that's what I really learnt from last season. I will apply those lessons and hopefully come off with the win."