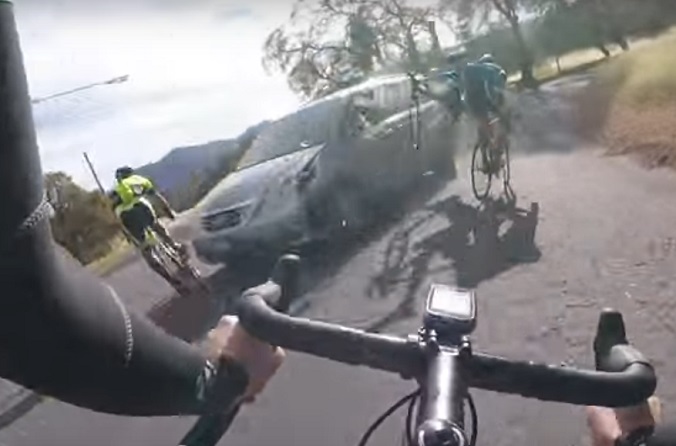 The incident occurred near Jamestown, California on a training ride of the UC Merced Cycling Team.
The minivan had cut the apex of a blind corner and with little time to react the van directly hits two of the cyclist who in turn brought down the other riders. The first rider hit endured the majority of the injuries and had to be air lifted to a nearby hospital, but was miraculously limited to a concussion and leg, knee, hand fractures which he has then since fully recovered from.
"His Giro Air Attack helmet is what saved his life.", said one of the cyclists.  "If you look closely you can actually see the helmet disintegrate when hitting the window of the van. The second miracle is how he landed on top of his brother which prevented his unprotected head from hitting the asphalt."
"The rider on the left sustained the second greatest degree of injuries, but was still limited to an ER visit and some stitches. Myself and the other ride only sustained bruising and moderate road rash.
"With the help of the video police were able to determine that the van was at fault for being on our side of the road, but I still learned the lesson that I should be incredibly careful when outriding my line of sight."