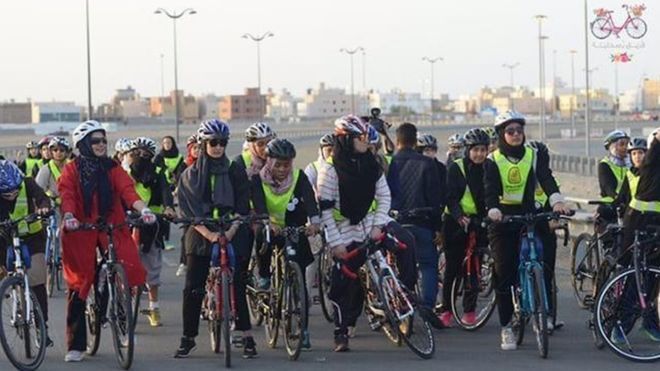 This week, female riders took part in Saudi Arabia's first women's cycling race, surprising many people in the conservative nation and across social media.
Five years after the country officially decreed that women could legally ride bicycles—albeit only for recreation, in parks, if dressed modestly, and with a male guardian present—an intrepid group of riders lined up for their first-ever public race: a 10-kilometer circuit in Al Jawhara Stadium in the Red Sea city of Jeddah.
In a statement to local media, race organiser Nadima Abu al-Enein said she was surprised by the number of cyclists in attendance.
"The large participant turnout prompted the organizing committee to increase the allowed number of participants from 30 to 47 girls," she said. "However, the committee was still forced to exclude numerous others who hoped to participate."
#فيديو ?
.
.
لأول مرة في #المملكة ..

إقامة سباق الدراجات الهوائية الأول للسيدات في محافظة #جدة، بمشاركة 30 فتاة في ملعب الجوهرة، ضمن فعالية "كن نشطاً"، تزامناً مع يوم الصحة العالمي.
.
. pic.twitter.com/9bwXqAh5Fz

— خبر عاجل (@AjelNews24) April 11, 2018
Although the event received positive reactions from some on Twitter, it proved to be controversial for others.
A Twitter user commented: "I am not a religious cleric but a woman can be seductive and getting on a bicycle reveals all her attractive parts to men. If she wants to ride a bike she must do that by herself and not in public nor in front of people."
Another user said women sports are needed, "but within limits and not in front of men".