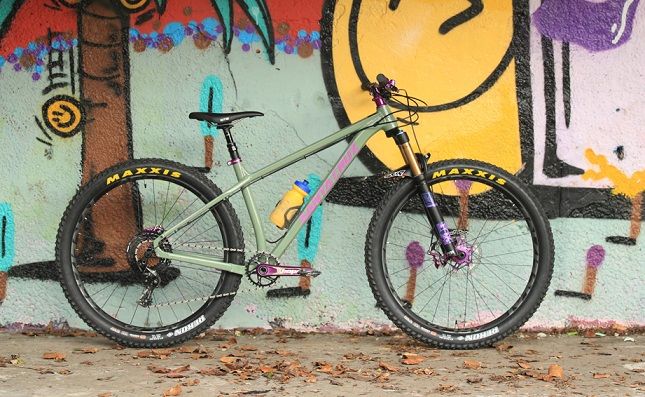 Dirt or asphalt, mountain or urban, geared or singlespeed—the moniker Chameleon has never rang more true than on this updated-for-2017 Santa Cruz classic.
Its primary use will likely be as a plus-size trail bike, but buyers will have no shortage of options with the new Chameleon, thanks to swappable dropouts that allow the frame to toggle between geared, 148-spaced 27.5 plus or 29er wheels and singlespeed 142 versions of the same sizes. The dropouts also allow for an adjustable rear center, with a range of 415 to 430 millimeters.
Both the 27.5+ and 29-inch versions come complete with a 120-millimeter fork, which gives the bike a 67.5 (27.5+) or 67.3 head angle (29). Reach measurements are lengthy, with the large stretching riders out at 457 or 460 millimeters depending on wheel selection.
The key advantage over other options is price (complete bike pricing starts at $1599), weight and simplicity. It opens up other possibilities like a singlespeed build, a rigid fork lightweight build or a bikepacking/adventure mobile. This may seem like the obvious evolution for the Chameleon but it does seem like Santa Cruz has nailed the execution phase once again.
Santa Cruz Chameleon details
Aluminium frame
120mm fork travel
29 or 27.5+ wheel options
67.5-degree head tube angle
Ships with gears, but singlespeed dropouts are available
Internal dropper post routing and two water bottle mounts
Interchangeable dropouts for gears (with 148mm x 12mm axle) or single speed (with 142mm x 12mm axle)
Threaded bottom bracket